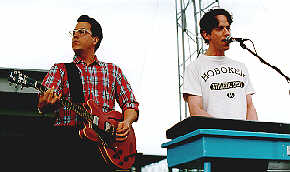 Good ol' Wendy Snyder. Just when the day was looking like it was going to stay nice until the end, she has to go and open her big mouth. Making my way to stage two for They Might Be Giants the clouds are starting to roll in and the breeze is getting colder. Nothing like cold and wet to bring on a good spring cold. But, it wasn't raining yet, so I found a nice spot to wait in prep for the maybe giant guys. While standing, two nice ladies came up to me, and my first thought was, "Yes, I'm not the oldest one here!" Then my second thought, well, we'll leave that alone, and then one of them asked "What band is playing next?" I had a handy schedule, so I politely told them "They Might Be Giants," and I figured the ice was broken, I was in. So my thought processes turn to witty banter, "Have you seen them before," "How many times," "Hi, I'm The Dude on the Right," "That's a nice outfit, but it would look nicer on my bedroom floor," "Would you like to have breakfast tomorrow? Should I call you or nudge you?" Oh, I was ready, I was set, and then the one lady says to the other, "They Might Be Giants, over here on the small stage? Who booked this thing?" And before I could start making up names of people they could send their complaints to, well, they quickly strolled away. I suppose maybe they went to kick some young, punk ass and make their way to the front of the stage. Such is my luck. But it was no time to lament, out came the John and John and the boys of the band. It was time for confetti.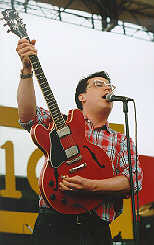 Such are the likes of They Might Be Giants, and their fans are, well, dedicated if not somewhat a little crazy, but the wonder of many of these dedicated fans seemed to be of why They Might Be Giants was over on the second stage. They figured John and John deserved top billing, or at least a spot on the main stage, but as a guy next to me pondered, when was the last good thing from TMBG? I'm guessing he wasn't a fan because they have put out a couple of CD's in the last couple of year's, but sort of compilation records, he wanted something brand new. I saw the band before, I knew what to expect, and they continued to put on the same type of show, with the same type of quirky songs, that I had seen before. But as fun as They Might Be Giants generally are, I was kind of sad because it almost seemed routine, like they were going through the motions. They knew what buttons to push, what would get the crowd somewhat excited, but didn't seem to put the energy or heart into the show like the last time I saw them.
I know their fans liked them, and they played some of my favorites like the President Polk song and the Istanbul/Constantinople song, but something was missing. Maybe it was the seeming impending doom and gloom of the weather, maybe four thirty in the afternoon is too early for them, but they just didn't seem to put on the standard of show I'm used to from them. I won't hit them too badly, but it's ONE THUMB UP from me for the They Might Be Giant boys.