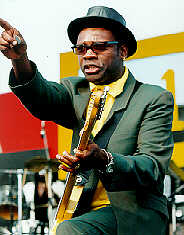 Low and behold, Iím making my way back to the second stage for the last band over there, and itís sunny again. Yea, thatís right, I said it was sunny again. I guess Wendy didnít jinx the weather, although it was sure starting to look like it, but in all honesty, I was glad that the Specials were the last band at the second stage because I was getting really tired of missing the end of performances, and getting really tired of walking back and forth. But of all of the bands, it was the Specials that gave the most ďyouíre not gonna be tired for usĒ performance.

Once again, a band I really knew nothing about, and you know, I probably wonít go looking for that information, but they were a hell of a lot of fun.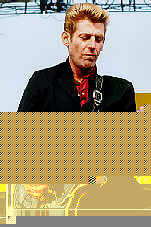 Simply put, the Specials is a ska band, and as good ska bands go, there is no stopping. Neville Staple is the lead singer dude, and from the get-go he was bouncing all over the stage. Back and forth, and back and forth, he had the opinion that everyone there had better get off their ass and have some fun. Bounce up and down, mosh, dance, something as long as you are moving, Neville led the horns, the guitars, the drums, and the crowd through one of the best workouts of the day. And they sounded good too!
Here is a band that seems to have been doing this since forever, but as long as forever has been, they still seem fresh, they still seem like they are having fun, and that really transferred to the crowd, even if they didnít seem to know anything the band was playing.
So, without further ado, there isnít much more that needs to be said other than the Specials is a kick-ass ska band, and if youíre going to see them you better be ready, because theyíll be ready for you! Itís TWO BIG OLí THUMBS UP for the Specials.