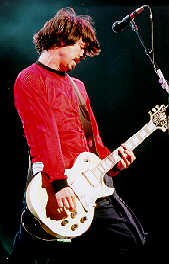 One more band, the weather is still pretty nice although there is a spring cool in the air, and Iím waiting in a little wonder. ďWhy am I wondering,Ē you may ask? Well, I saw a crowd go from a frenzy with Barenaked Ladies, to a slight lull for Soul Asylum, and now wondered how Foo Fighters would fare. I knew Foo Fighters were popular, but thought that maybe this really wasnít a Foo Fighterís crowd, especially since Barenaked Ladies and Foo Fighters tend to be at opposite sides of the musical spectrum. Is it possible this crowd could have the same appreciation for a variety of music that I do? Is it possible that Dave Grohl and the boys could bring the house down the way they did a couple of years ago? Well, the crowd did, and Foo Fighters did too.

I guess of all of the reviews, this one is the easiest because Foo Fighters did what they do best, blow out the theory that guitar-driven rock, whether you call it alternative, metal, or whatever, but guitar-driven can still knock you on your ass, make you get back up, and knock you on your ass again.
The set mixed a lot of songs, intermingling the known radio hits with those only the faithful would know. It was loud, it was cool, and it was good to see that for every song , Dave Grohl stretched to the crowd, spun around, and blasted his guitar through the closing hour of the night.
Well, nothing more needs to be said about Foo Fighters Ė they kicked ass. Itís TWO BIG OLí HUGEMOUNGOUS THUMBS UP for Foo Fighters.
And It Didnít Even Rain.
And so, the night came to a close. As lackluster as the crowd seemed to be at times, I think most everyone had a good time, I know I did. But you know, I noticed something as I reflected back on the bands Ė where are the chick bands, or at least a band with a chick in them? I started going through them all, and looked, and thought ďIíve got to be missing one.Ē I thought again, and nope, it turns out that the closest thing Q101ís Jamboree í98 had to a female band was Barenaked Ladies, and they just have a cool name. Maybe itís a booking problem with the up and coming lady fair, or maybe it is just that there arenít any good chick bands out there right now (howís that for a line to stir up trouble Ė Iím just kidding, there a lot of good bands with females in them, and personally, for me, Iíd rather be taking pictures of the ladies anyway), but in any case, as a guy, I felt gypped.
Oh well, the weather held out, even with Wendyís almost jinxing it (although it is always humorous watching the younginís leaving, covered in mud and having to get in their parents car), and for the 30ish dollars, Q101ís Jamboree í98 did give a good idea of a band you might want to spend your hard-earned money on the next time they come through town. I know my calendar will be full, and Iíll even give most of them a second chance.
Well, as always, thatís it for this one! Iím The Dude on the Right! L8R!!