Now, as I departed the main stage area I noticed that it had begun to rain. Boy, I was sure thinkin' "hell, I could just stay under the protective covering of the pavilion," but then I would be slacking off at my job. So, I pushed on into the drizzle of rainfall back over to the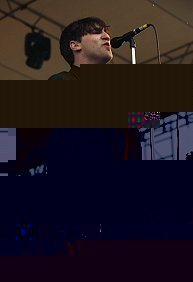 Buzz stage where The Afghan Whigs had already taken the stage. I didn't think to check to see if I was just late or if I had thought too much about the rain and took my sweet time getting over to the stage. Well, by the time I was there, my normal spot back by the soundboard had been taken. So, I decided to see how close to the stage I could get. I began wading my way through the crowd and eventually found myself near the mosh pit. It was sort of a tame mosh pit, mainly because there were a bunch of moronic dickheads using more than just their bodies to bounce into others with. I guess I don't blame the crowd for the switch over to crowd surfing as I know I didn't want to get caught by a stray by a stray elbow and end up on the wet ground.

Anyhoo, the Whigs kept on playing through all the nonsense taking place on the ground in front of them, and were definitely an interestingly setup band. They had a chick sitting in a rocking chair, or at least I thought it was a rocking chair, playing an electric cello. That is right, you read me correctly, an electric cello. I was pretty impressed with the fact that they had made such a thing, let alone that the band was putting it to good use.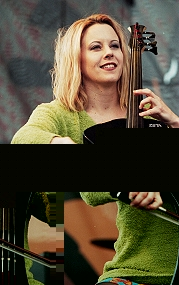 So, they had that going for them. My biggest problem with this band is that I had never heard of them before. But now that I have, I am gonna keep my eyes out to buy one of their CDs to check em out a bit further. I was fairly impressed with the music they played, although my stomach got the better of me and I left a tad early to try and snag me a piece of Za before Korn. So, being that I didn't see their full show, but I did see how the crowd reacted to em and I know how I did, I must give them One Thumb Up! They are a definite must see next time I see them listed in a show.