GWAR
Steve Perry
Some Concert Reviews
(No, they didn't play together, but they're in the same review.)
The Dude on the Right
What a busy bee I've been! First there's classes (funny how they get in the way sometimes), but then there's the rest of the week. Traveling the highways and byways, alright, just a few roads, I saw Steve Perry, GWAR, and Big Guitars from Memphis, with some opening acts thrown in for good or bad measure. What a mix. So let's get right to it.

Steve Perry, for those of you who don't know, was the lead singer for the band Journey. Now, to date you freshman types, you were about one year old when Journey had the hit "Wheel in the Sky" off of the album Infinity. Kinda scary, huh? But, that's not what the concert was about.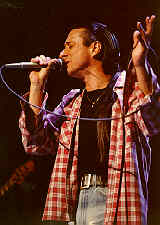 Steve Perry
On the road on the "For the Love of Strange Medicine" tour, it's Steve Perry's first venture out in eight years. And he hasn't lost a thing. The voice is still crisp, the moves are still there, and his jet-black hair might just be a little bit longer than before.
Opening with a power outage on stage, Steve Perry seemed unflustered as the technical difficulties were repaired, and cruised right into a few Journey classics, Then it was on to couple of previous solo hits, with "Oh Sherrie" getting the crowd to know this was going to one kick-butt show. And solo is what he is about now, so after getting the crowd fired up he kicked in to some of his new solo material. "You Better Wait," a song about not growing up too fast, and his latest hit, was received well as he worked the crowd, and "Somewhere There's Hope" was a haunting type of song with a backdrop that looked like blowing curtains looking out into the darkness. But he knew people came also to hear the hits, and that's what he stressed, which is sorta too bad because his solo material is great in it's own right.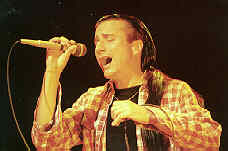 Steve Perry
Backed by a talented group of musicians, hits like "Wheel in the Sky," (which was preceded by a wailing guitar solo), "Lovin', Touchin', Squeezin'," and "Separate Ways" sounded true to form, with "Don't Stop Beleivin'", the first encore, bringing the house down.
The evening ended with the touching "Faithfully" and I was only sad about one thing, that as good as Steve Perry is as a solo artist, I wish I could have been old enough to have seen Journey as well.
You guessed it, Steve Perry get TWO THUMBS UP! The show was great, spotlighting old and new, and there are certain voices that are always recognizable, and one of those is Steve Perry.
And now for something completely different - GWAR. It was sick, disgusting, putrid, gross, enticing, captivating and really cool! It was GWAR!
GWAR
You can't really describe GWAR, you just have to experience it. But experiencing it is not for the weak. If the thought of heavy metal type music with theatrics ranging from tearing Frank Sinatra's head off, chopping the breasts off of, I think, Rosanne, axes lodged in skulls, blood spewing on the crowd, and one really large penis make you sick, GWAR is definitely not for you. But if you want a show with some, in actuality, not too bad heavy metal musicians, and some antics that stretch the limits of cool and disgusting, I recommend GWAR.
And you know, I really don't know what to say about GWAR except I can now understand why they are Beavis and Butthead's favorite band. It is definitely a show to experience, and probably be offended, but it is also definitely one of the most action-packed shows out there on the circuit.
GWAR gets TWO THUMBS UP from me. I liked it, and hopefully will get to see them again. And maybe you will too.
And then there was Big Guitars from Memphis, the band at the Bog last Thursday. I finally got to see them.
Last time around, I missed them due to being sick, but heard all about them. And this time, I can say I did enjoy them. But the main question of the night was, where the hell was everyone, especially for a band that supposedly last time had the crowd whoopin' and a hollerin' the night away.
But the band still had fun, even for the few in the Bog.
Big Guitars kinda has their own sound. It's a cross between Roy Orbison, Elvis, old country, new country, and a whole bunch more thrown in for good measure. And they were pretty talented too.
Mostly originals were played that night, but the rousing version of "Delilah," the old Tom Jones classic, topped it for me.
What the hell, TWO THUMBS UP for Big Guitars from Memphis too.
What a good week it was!! And coming up this week we have a band called Kingsnakes, a blues band (what - you mean musical variety?), so, you hopefully have dropped all those classes you're failing and have plenty of time to have fun now, so come down to the Bog. Party Smart, and as always, Rellim Reeb, Rellim Reeb!!
Dude on the Left
GWAR, GWAR, GWAR, yeah yeah yeah kewl kewl they kicked ass! If you couldn't' tell I got to see GWAR. So that means that this week's Bog band, who happened to be Big Guitars from Memphis, is going to have to wait till I get done reviewing one of the craziest shows I have ever seen.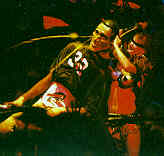 GWAR
GWAR had a show earlier this past week at The Vic Theatre, and my partner and I were fortunate enough to get to go and see it. At first, I was really excited to be going to see a band that I have heard so many weird things about. Everything from their outlandish costumes to the blood and gore that is spewed forth upon the crowd during the course of the show. So, I found some grungy clothes and away we went to see them. They had two opening bands, which were both practically booed off of the stage. The names, as irrelevant as they may be, of the bands were Buzzov-en and The Dickies. But enough about them and on to GWAR! There really is no musical definition for the type of music that these guys played. "It is just GWAR," as I was told by a GWAR groupie type. But in my definition it is a mix of Heavy Metal, Techno pop, Thrash Metal and Wrestling. Yes, that is right wrestling. This is what they did during the course of the show, as the members of their pseudo-occult dressed in very creative costumes, designed primarily to explode with jissings and such at the appropriate times. It was way kewl seeing the champ knock the breasts off of Rosanne Arnold, or sticking a long sword into OJ Simpson's head. All in all, the costumes were way kewl, the blood, gore, and everything was definitely not for the weak of stomach and I really got a kick out of it.
Only problem I found with this show was all the lil teenyboppers in the crowd. You definitely could tell it was an all ages show. Everyone from the low teens sneaking in their smokes to the older seemingly GWAR heads, what a mix! So I am gonna give GWAR TWO THUMBS UP! It was a grand time had by all, I was just disappointed I couldn't get close enough to get spooged on.
And now back to our regularly scheduled broadcast. The Bog band was Big Guitars and they brought with them their original look at the country scene. But I bet most of you don't know that becuz none of yous guys were there. Albeit disappointing to not have a crowd there, the show must go on! And on it went, with Big Guitars not really missing a beat all nite. At the very worst, they knew that they were gonna get paid and made the most of what could have been a very dreary nite.
Big Guitars enthusiasm was carried quite well through the entire show. And hell they even had a nice little battle between the lead guitarist and the accordion player. That was soooooooo kewl! It was amazing to see how equally matched those two very different instruments really are. The guitarist would give him a riff to match and the accordion player would match him chord for chord.
Well, one last quick note on them and I will wrap up yet another long article for us. The guys from Big Guitars have a touch of rock in them, teasing such favorites as La Bamba, Bodeans, Nugent, Zepplin, and Deep Purple. So they were either a) Reborn rockers in country bodies, or b) really rockers in country attire.
Anyhoo, Big Guitars from Memphis get TWO THUMBS UP from me! They were great, too bad you missed them. All I can say to you who missed them is Nyah, Nyah, Nyah, Nyah!! Big Guitars get a grand total of FOUR THUMBS UP for the week as well as GWAR receives the same. So it was a very good week for us.
Next week brings us another band that has been here before, Kingsnakes. I don't recall them from last time but I hear that they were really good. So everyone study hard or hardly study but by all means get your work done early so we can pack the Bog to the walls! And I will C.U.Next Thursday.