MPAA Rated – Not Rated
It's 1:30 Long
A Review by:
– Andy Labis
The Overnighters
Movie Stats & Links

Starring:

Jay Reinke

MPAA Rated:

Not Rated

Released By:

Drafthouse Films

Video Release Date:

February 3, 2015

Kiddie Movie:

Nah, it's about a lot of down-and-out people.

Date Movie:

If she's interested in a good documentary and not something mushy.

Gratuitous Sex:

Some talk of sex offenders, but nothing graphic.

Gratuitous Violence:

Just one person trying to get the Reverend off of their property and threatening to shoot him.

Action:

Nah.

Laughs:

Ehh.

Memorable Scene:

The reveal by Rev. Jay of something from his past.

Memorable Quote:

"A man with no teeth and living with his daughter calling other people trash.

Directed By:

Jesse Moss

Cool things about the DVD:

Some of the deleted scenes actually should have been left in the film, and the extended interview with Rev. Jay is actually interesting.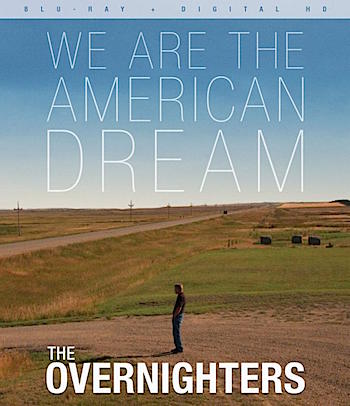 The stories were out there: Move to North Dakota! There are tons of jobs, waitresses are making $15+ dollars an hour, and you can easily find a job making over $100k a year! While some of this may be true, when stories like this get published what happens? Tens of thousands of people, mostly out of work, consider moving to North Dakota to find work. Here's the problem. While there are jobs, there aren't that many, and it's North Dakota. The fracking boom has come mostly to smaller towns that don't have the resources to accommodate such a giant influx of folks, many of whom are down on their luck, have questionable pasts, and think that North Dakota, or in the case of the documentary "The Overnighters," Williston, North Dakota, is the pot of gold at the end of the rainbow. "The Overnighters" focuses on these people, the ones not getting the jobs, as well as Rev. Jay Reinke, a pastor in Williston who opened his church to those who couldn't find a place to say, much to the dismay of the town, especially when the questionable pasts of those seeking shelter came to light.
As the documentary opens we see the Reverend waking up the people he has sheltered for the night. Most of them are men, those who came by bus or train are sleeping throughout the complex, in hallways and rooms, while those with cars would sleep in the parking lot, and the documentary begins to key in on a few of them with Rev. Jay, trying to help them through the transition to find a job. He advises them to clean up, cut their hair, get a resume together, and keep trying, but challenges await most of them, especially as background checks reveal criminal records, but more importantly for the documentary, people on the sex offender list.
We see Rev. Jay's family who is trying to do the Christian thing and help everyone they can, but you can see the strain the situation is placing on them as well. The key to this story is the town of Williston, torn by wanting to be good Christians, yet wanting to keep their small-town feel, worried about crime, and trying to keep their children safe.
Progressing through the documentary we learn that the Reverend is housing men with sex offender pasts, both in the church and in his home, and while some might be a blip on a record that follows them for life, others are not so seemingly insignificant, and when the local paper brings this to light, the blow-back for Reinke is insurmountable, especially as he is harboring some of his own secrets.
What I loved about this documentary was that it really showed the flip side to the stories of the boom of North Dakota. You see the people and some you root for, but many you question because at one instance they seem like people just trying to restart their lives, but then you see them slip into being assholes again. The thing is this even happens with Rev. Jay when one minute he seems like the great-natured guy, just trying to help, but, and sure every story has two sides, from the commentary by some of the people he helps, there are times even his motives seem questionable. There is an extra with a detailed follow-up interview with Reverend Jay when he addresses this, mostly in a manner consistent with his personality shown in the film.
There are a few times the documentary drags, but other than that "The Overnighters" is a fantastic look at the other side of the North Dakota story. Sure, those with a little bit of a better plan than the people just "showing up" and thinking millions await them probably have a decent chance of the good jobs, but it's this other side people don't hear about.
This documentary shows people doing a lot of soul-searching, losing even more, like their families, by even coming to North Dakota, and a Reverend who has his own demons that he can't come to grips with. It's a great look at the town reaction, those who don't have it so easy, and the challenges faced when the "boomtown" event happens because not everyone is happy about it. It's 4 stars out of 5 for "The Overnighters." I guess I would have liked a few success stories on people who really made it, though there was the one dude who was excited because he was actually going to have someone to supervise. Other than the little blurb of "What is happening now," a little more follow-up on some of the characters might have been nice. Also there is some "niceness" about the documentary, although one of the outtakes, "I Used to Stay Here," really shows the flip-side and the volatility that can be there. I think I might have like to have seen a little more of that.
That's it for this one! L8R!!