Loading ...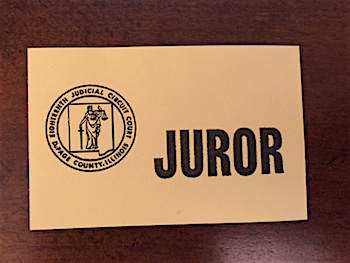 There it was, a jury summons. I get the mail, flip through the normal bills, flyers, stuff that instantly gets shredded, and then whisper, "Shit." I looked just like the guy in the "Welcome to Jury Duty" video, or whatever they called it, who opens his mail and sees his jury notice, only I didn't see him whisper, "Shit."
And so began my odyssey to achieve, as the "Handbook for Illinois Jurors" says, a "higher opinion of the privilege enjoyed by the free citizens of our country to participate in the administration of justice." My journey began almost like the stages of grief. There was the denial, the bargaining, the depression, the anger, and then finally the acceptance.
First came the denial.