Jimmy Buffett
A Concert Review

June 20-21st, 1997

The New World
Music Theater

Tinley Park, IL

A Review and Photos by
The Dude on the Right
Jimmy in his "hotel room."

Opportunities for a Jimmy Buffett weekend like the one I had when he came through Chicago don't come often. First off, he was in town for two shows, a Friday - Saturday stint at The New World Music Theatre in Tinley Park, just outside of Chi-town. And if that wasn't enough, he was scheduled to be special guest for Jonathon Brandmeier's Summer Kick-Off Broadcast (Brandmeier, a.k.a. Johnny B., is a local radio personality who does a morning show in Chicago). Me, through some strange twists of fate, I was able to be at all three events, in three different perspectives, and let's just say that as memories go, this was a weekend full of them. So, here we go, a review in three parts: The Show, The Lawn, and The Morning. Yea, it's kinda reverse order, but when do we do anything normal!

The Show
Secured with a seat for Saturday's show, it was kinda weird standing there knowing just about what to expect. Jimmy Buffett is out on his "Havana Daydreamin'" tour this year, and his show revolves mostly around the "Jimmy's goin' to Cuba" theme. His goal, take you on a trip to a world only the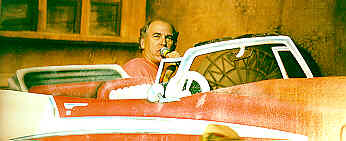 Jimmy in his "convertible."

few have seen, and make you feel like you've hit a part of the somewhere forbidden by the US government. Sometimes he strayed, but mostly he hit the spots of finding a boat, getting a navigator, and heading to the island for a show in a little Cuban bar.

As in a typical Buffett show, he played the standards, but in keeping with his Cuba theme, Jimmy tossed in some off the wall songs, some music from his musical, "Don't Stop the Carnival," and even tried to clean up some lyrics for the kiddies. Opening, the Coral Reefers hit the stage sans Jimmy.
El Orquestre de Jimmy Beffett con Los Corales Reeferos

Seems he was hanging in a "hotel" room on stage practicing with the backup singer dudettes. Well, the band calls him out and Jimmy rides his cool "convertible" across the stage to the show. It's time for "Crime of Passion," and his show is underway. The first part was geared around getting to Cuba, and he did so by finding a boat in "Landfall", snatching that navigator in "Changes in Latitudes, Changes in Attitudes", hitting the south of Florida with "Cousin in Miami," and making it to Key West in the likes of "I Used to Have Money One Time."

Now, I'm not sure how calm his other trips to Cuba have been, but this one was not without some rocky moments. First off, this night, it was raining. Now, I'm not talking about the downpour I experienced last year -the a deluge of rain turning the lawn into a mudslide. Nope, the night of this show the rain came down in the form of beach balls, and I'm not just talking a light sprinkling, no way. We're talking a downpour of biblical proportions, with more beach balls flying than might be at your local department store. But Jimmy and the Coral Reefers took the weather in stride, kicking those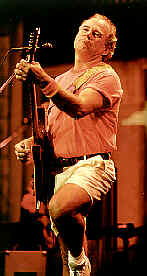 Jimmy Buffett

"giant raindrops" out of their way and searching, as Jimmy put it, for that Banana Wind to carry them over to Havana.

As the weather was one problem, Jimmy needed to make some dedications to some folks. First off, to Newt Gingrich and "People who take life too seriously," which he further commented didn't apply to his fans here. He hit the notes of "Cultural Infidel" to the dancing delight of his crowd. Following up, I think Jimmy might be trying to get off of the Southern Baptist's Convention shit list because he was up there trying to clean up his act. It's a little story time about the changing of "Why Don't We Get Drunk and Screw" to "Why Don't We Get Lunch in School," complete with the lyrics "I've got a waterbed filled up with Elmer's Glue." Now, try as Jimmy might, he can attempt to clean up his act, but the fans weren't too hip to the new lyrics, they stuck to the sing-a-long of the, as Jimmy put it, "Original white-trash version." And this boat ride was coming to a close with some "Cheeseburger in Paradise" and the always danceable favorite, "Brown Eyed Girl."
More Jimmy.

Alright, maybe this review is getting long-winded, but you know, of most of the Buffett shows I've seen, this one really stayed in character through most of the night - maybe that's kinda in keeping with Jimmy's working on his musical, and it would be really easy to just say the typical "Jimmy Buffett treated his legion of Parrot Head fans to a normal Jimmy Buffett show," which he did, but he didn't. So, let's continue on Jimmy's journey, and he's made it to Cuba.

With some slight set adjustments during the little intermission, Jimmy and his Coral Reefers find themselves in a little Cuban bar called "La Perla De San Francisco." It was time for a little acoustic-style stuff with "Coconut Telegraph," and a "La Bamba/Guantanamero" medley. But it was also request time with "Stumpo El Bando," where two lucky contestants got to try to stump Jimmy and the band by requesting any Buffett song. First person up - loser. Requesting "The Great Filling Station Hold-Up" is like asking Jimmy to sing "Happy Birthday." Well, Jimmy sang, the band filled in, and the entire 30ish thousand fans sang along with him. Next up, a big winner. The winning song, "Abandon on Tuesday." Jimmy blamed the fact that he couldn't remember it because he wrote that "before I even started taking drugs." Well contestants, there you have a winning song, unless Jimmy brushed up. And if any of you readers out there stump Jimmy with "Abandon on Tuesday" after reading this, I hope you keep me in mind to take to Key West if you win the trip!

Well, with some "Havana Daydreamin'" acoustic-style, it was time to plug everything back in for some Jimmy playing trombone on "Bob Robert's Society Band," the traditional "Pirate Looks at 40," "Volcano," and "Fins," where eventually an inflatable shark made its way through the pavilion to the stage. Jimmy kept the shark, even took it with him in his convertible as he left the stage after "Ragtop Day." But the show wasn't over.

An encore of "Sweet Home Chicago," "Another Saturday Night," (it was a Saturday night after all) and "Margaritaville," followed by the acoustic style encore "Nautical Wheelers," and two and a half hoursish after starting, the trip to Cuba had come to an end.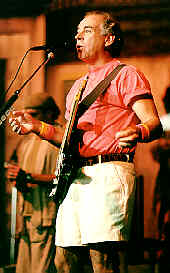 And more Jimmy.

For the show, Jimmy and the Coral Reefers sounded great, and I hate to say it this way, but it's kinda as usual. Through the years, Jimmy really knows what his fans are looking for, tries to mix things up a little, and even without the support of new material seems to be able to pack the venues around the nation. Why? Maybe it's just because he is consistent, maybe it's just because his shows are fun, or maybe it's just because there are millions of people out there just in need of someone they can sing along with, someone they can grow up with, and someone who personifies a dream of many - being able to be up on stage singing Buffett songs. Jimmy does it best, as he should. I just feel kinda sorry for the youngins, still trying to find a Jimmy Buffett of their own. Good luck, no one does it like the original, but for a little while longer you might be able to borrow ours.

On the horizon, Jimmy says he's looking to take his "Don't Stop the Carnival" musical on the road, and I'm looking forward to that. But, as cool as that might be, I hope he never stops touring and coming through Chicago. The summer just wouldn't be the same.

It's TWO BIG GIANT HUGEMOUNGOUS THUMBS UP for Jimmy Buffett and the Coral Reefer's "Havana Daydreamin'" tour.

The Lawn
Alright, so that was the show, now for some experiences, so if you don't want to read anymore, well, thanks for reading - I'll see you next year. I know I've been babbling endlessly so I'll try to shorten things up a little. Anyway, there are two ways to experience a Jimmy Buffett show, at least at the major outdoor venues, and that is from a seat in the pavilion, or a spot on the lawn. You know, I still haven't figured out where the real party is.

As the fates would have it this weekend, Friday afternoon a friend of mine had a dilemma; an extra lawn seat for the Friday night show. What was I to do? I couldn't let that ticket go to waste, so it was off to the New World Theatre for the first official show in the Chicago area this summer. Now, I haven't been in a lawn seat in a while, and truly forgot how bizarre it could be, because out in the lawn during a Buffett show all sanity seems to fly out the window. The sound was great, but Tinley Park does have a noise ordinance (why are people building townhomes next to an outdoor concert venue anyway, and then complaining about the noise, but I'm sorry, I digress) so you can easily hear the folks who have no vocal talent whatsoever, although they sing as loud as they can thinking they are Pavarotti or something. But you know, it doesn't really matter because everyone is having so much damn fun. There were dudes dressed like bananas running through the lawn (they seemed to be picking up a lot of women this way), there were people having dinner like this was some sort of picnic, there were Parrot Heads dressed to the epitome of Parrotdome, and for this show we even had some skyward entertainment with flashes of lightning and a fullish moon (me, I was starting to have flashbacks of the previous year's rainstorm). There were also four positions from which to see the show. You had your standee's, your sittie's, your guy on top of girl position and your girl on top of guy position. The lawn sort of has its own show, weirdly choreographed with what Jimmy was doing on stage.

The show this night was pretty similar to the next, with "Southern Cross" coming in place of "Another Saturday Night," and "Banana Republic" closing the show instead of "Nautical Wheelers." All in all, even though Jimmy was about the size of my fingernail, and they didn't have the big giant TV screens (probably because of the wind, but that's my guess), I'm beginning to realize that there really isn't a bad place to experience a Buffett show, as long as you're there.
Jimmy B. and Johnny B.

The Morning
In continuing with our backwards trek through the weekend, and as cool as seeing two Buffett shows in two days was, seeing a third, kinda mini set, in two days was awesome. As Jimmy was a special guest for Jonathon Brandmeier's Summer Kick-Off Broadcast, I was covering the broadcast, and somehow knew Jimmy would end up singing a few tunes. By his lonesome, supposedly taking his bike from his hotel to The Skyline Stage on the lakefront of Chicago, Jimmy Buffett was greeted with banners, signs, and by Parrot Heads, while he greeted the people with a "What are all of you doing up so early?" Jimmy B. and Johnny B. did some interviewing type stuff,
Jimmy in the mornin'.

Jimmy talked about "Don't Stop the Carnival," a future show in France, some possibilities of shows in Hawaii and Key West, and just about near anything he wanted to. But Johnny B. knew that Jimmy B. would sing, and had a guitar all ready, so Jimmy played a little "Stumpo El Bando" for the crowd. For you readers, here's some other winning stumps if you get to play the game - "Captain America" and "The Lawyer and the Asshole." Some people didn't get the idea for the game, and just requested their favorite song, but that was cool too because it was just Jimmy and his guitar, in a small venue, for some close "friends."

As the morning show was coming to a close, Jimmy sang "Banana Republic," and even at 9:30 in the morning sounded great. Some people have once in a lifetime events, some once in a lifetime days, but I was lucky enough to have a once in a lifetime weekend. Very cool, yes it was, I kinda hope I helped you be there too.

Well, that's it for this one, sorry it was a long one, but 'till next time, I'm The Dude on the Right!!! L8R!!