Jimmy Buffett
A Concert Review
The Dude on the Right
If you weren't having fun than you must have been dead, at least if you were at Alpine Valley on June 10th. Why? Well, that was the day of the return of Jimmy Buffett and the Coral Reefer Band to the Chicagoland area.

Well, all right, if you were still stuck in the line to get in (we'll talk about that later), you weren't having much fun, but once inside, it was a Margaritaville heaven. Yeppur, Jimmy Buffett brought it all with him this time around for his "Domino College" Tour. And what a session of classes it was.

A definite mix of older and brand new songs, Buffett brought the crowd from the naive ranks of freshmen (or fresh-women as the case sometimes was), up to graduation day as well schooled seniors. If only college was really like this!! Oh wait, staying up late, partying till dawn, only working when you absolutely have to and then at the last minute, singing Buffett songs really loud and nobody cares - it was just like college!!!!

There are so many good things about a Buffett concert that I could ramble this review on forever, but let's give some Cliff Notes on a gorgeous night. There was a history lesson in "A Pirate Looks at Forty," a sex-Ed class before "Come Monday" and "Let's Get Drunk and Screw," (I think that one couple on the lawn gets some extra credit on this one!), a geography lesson before "Volcano," physical education and beginning calisthenics during "Fins," some map-making on "Carolina Street," business planning during "Another Saturday Night," and of course a lesson in bartending during "Margaritaville." Wow, that was a lot of information to take in about two hours, but I think the entire crowd left with a diploma of some sort or another.

The crowd was treated to the wonderful teachings of Dr. Martini, a music class of sorts on the trumpet, and Jimmy Buffett was chosen Valedictorian when all was said and done.

But wait, all was not said and done. Oh no!!! There was still a little respect gathering for our parents, and playing on the fly a brand new song. Then the pyrotechnic class brought some fireworks to send the 40,000+ people back through the one little gate (ohhhhhhh - that little gate).

Well, Jimmy Buffett and his support group of thousands of people always put on a great show, and this one was no exception. Jimmy Buffett, his band, and oh hell, the entire crowd, gets TWO THUMBS UP, and A DIPLOMA TOO!!!! One hell of a show, and I can't wait to get my hands on his new CD coming soon!

At least the show was good.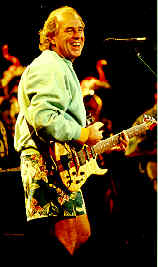 I haven't been to Alpine in a number of years, and as much as I like the inside of the place, and the fact that they let you party in the parking lot, I hated this experience, and it was a damn good thing Buffett put on a good show or I probably would have exploded. Why you may ask? Well, it seems Alpine has this one gate about 50 feet to filter an over-sold crowd of some 44,000 people through. A simple fluid equation will show you that the speed at which you can filter that many people through approached zero in comparison to the size of the group. It sucked. I have never been stuck so close in a crowd of people, never actually was afraid of being trampled, and never saw people trying to crowd-surf to the front of the line. It's a damn good thing Parrot-Heads are a reserved bunch (at least until the show starts) because this situation had all the makings of a disaster. I hope somehow I can get to the sold-out show at the World Music Theatre because even lthough I hate the acoustics of the World, it's hard to get into a show when it takes over an hour just to filter in the venue.

Enough ranting and raving, well, not raving at all because the experience sucked most of the life out of me. I'm glad the show was good. Oh wait, I'm ranting again.

That's enough, you know the drill - Party Smart, and as always, Rellim Reeb, Rellim Reeb, or in the case of Jimmy Buffett, Anoroc Artxe, Anoroc Artxe.

The Dude on the Left
Jimmy Buffett sucked! No wait, I take that back, it was Alpine Valley that sucked! No, hrm, the crowd sucked! Okay, I got it, TicketMaster sucks! Yeah, that is it. What kind of fool would over sell a 40,000 seat music theatre by close to 4000 tickets? I guess wanting to please as many parrotheads as possible, but it sure did make life difficult. But I guess I am taking away from my review so...

Jimmy Buffett was recently at Alpine Music Theatre, in Wisconsin, and I had the privilege to attend the show, and see a concert too. The show I am referring to is the one that was in the parking lot, on the lawn, after the show and 'bout near at any other time during the show. ParrotHeads are what they are called and I guess they sorta rival DeadHeads minus the fact that I doubt they travel with Jimmy. ParrotHeads are a little more elaborate than DeadHeads, seeing that I am pretty much both, but don't always dress the part. But dressing the part doesn't make one a ParrotHead or a DeadHead. I guess it is all about your persona and your desire to see a good show.

So we had quite a few very entertaining people around us while we were biding our time to get into the show. Ya know, kick back in the lot an hour or four before the show and have a few beverages and chill to the tunes of the car with the loudest stereo a few cars down. At the same time, take in the atmosphere of all the ParrotHeads and their rapid preparation for the upcoming show, ya know, the parrot cages as hats, big ole shark fins - will explain later, and miscellaneous other tropical items, including the coolest shirt designs I have seen since a Dead show.

And the topper to that whole afternoon is the fact you get to be entertained by a very entertaining individual in Jimmy Buffett. Jimmy never fails to have an elaborate stage setup as well as the entire band dressed in the tropical island styles. Women in bikinis, men in flip flops or just flat out bare feet (like Jimmy), and shorts all around.

Jimmy played a bunch of new tunes that are on his upcoming 30th album. Wow, that is a lot of albums, and to think I only have a couple of them, hell I think he has Teddy Nugent beat for albums out and Teddy always asks, "Who the HELL is gonna stop him!" Well, it sure doesn't seem that anyone is gonna be able to stop Jimmy and all of his ParrotHeads. Along with the new songs, Jimmy also brought some old favorites, ya know like he could get away from a show and not do Margaritaville or Cheeseburger in Paradise? I don't think so, there might be a riot or something, then again, it would all depend on the content of the other songs he did. I was a little disappointed to not get to hear a couple of songs of his latest album, like Uncle John's Band (can ya tell I am a DeadHead?) and Fruitcakes, which rapidly became a favorite song of mine. But what can ya do. It was a very quality show other than the songs I missed, but I got to hear Come Monday and Volcano so I think I can forgive Jimmy this time.

So, I am gonna give Jimmy Buffett and his Coral Reefer Band TWO BIG OLE HONKIN THUMBS UP! What a grand show! I can only wish that it wasn't such a big deal getting into the show, that was a mess, getting out was just as bad. But that had everything to do with the venue and not the entertainment.

Oh! I almost forgot, I mentioned I would tell ya bout the shark fins. Well, ya see Buffett has this tune, well if ya don't know, you will just have to go and experience it, or maybe my partner will told ya all about it...Until the next time....L8R.