Stabbing Westward
A Concert Review
Wow! Stabbing Westward was, by far, the best small venue act I've seen all season. Their performance and music floored me. I was so impressed by them that the very next day I ran out to Best Buy (why pay more?) and bought their CD. I could go on and on about how impressed I was, but first lets talk about the night's opening acts.

Having arrived at Chicago's Metro way too early I killed some time by having a tasty burger at Yak-Zies just a quarter block down. When I did make it to the show floor my first thought was "Whoa... Is it 2-for-1 with a high school ID night?" There were so many grungy-dressed young'ins there I felt like a grandfather. My second thought was "This mosh pit is gonna get out of hand and somebody is gonna get hurt." Sure enough I was right, but we'll come back to that later.

Drill was the first act of the night and they weren't half bad. Then again they weren't that great either. The lead singer had a look and sassy prance on stage that could best be likened to a mix of Gwen from No Doubt and the lead singer from Whale. What ever happened to Whale? I liked them and miss them. Anyhow. For me every song sounded pretty much the same and the lead singer showed that she could scream and wail but do little else with that perky voice of hers. I'm not sure how long this band has been together but as they stand now I see little commercial value in them. That is to say I don't expect to hear them on the radio too soon. But don't count them out. They definitely have energy and show some talent in their music. With a little focus I think Drill could do OK, but for now all I can give them is a SHRUG.

After Drill came Ash, or so said the marquee. The lead singer actually introduced the band as "Goldfinger." I was confused and I still am so I'll just stick with the name Ash. My first impression of this band was that they were a British Punk band. Just as that thought settled in my mind they threw a "Seattle'esk" song at me. So are they punk or grunge? Who knows and the kids thrashing about in the audience didn't seem to care. Ash's music is definitely moshable and I liked that. I did note during the performance that the drummer and the bass player kept falling out of sync. They must of had monitor problems. Regardless, I liked them and the crowd enjoyed them so I give Ash ONE BIG THUMB UP.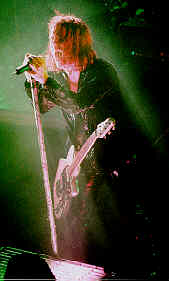 Then an uneasy restlessness fell upon the Metro while we waited 35 minutes for Stabbing Westward to hit the stage. When they did the place went up for grabs - this had to be one of the most unruly mosh pits I have ever seen. I was standing in the balcony watching surfers fall on their heads, kids getting trampled, and elbows flying everywhere on purpose.

Allow me to step up on my soap box for a minute. Kids... Let Uncle Stu share a story with you. Long before my time people used to slam dance. The purpose of slam dancing was to feel pain. When I came of age we learned to mosh. Moshing was slam without the pain. Be it slam or mosh, if somebody falls you pick them up. If a girl is surfing this is not an excuse to cop a free feel. Lastly, when moshing, keep the elbows down. Old guys like me will not hesitate to kick your"16-year-old-150-pound"ass if you throw us an elbow. Thank you.

If you've never heard of Stabbing Westward I'd have to liken their music to a cross between industrial and tribal. Sound cool? They are! These guys have a huge sound that will rock your socks (God! Does that last comment sound like bad DJ lingo or what?). It's not fair to call Stabbing Westward an industrial band because they've go so much more going on in their music and a lot of that can be credited to the man behind the drums Andy Kubiszewski. Before the show I had a chance to talk with him and he impressed the shit out of me with his resume. From classical training to playing with the big boys in the industry, Andy has done it all. In most bands now a days, the drummer is simply there to keep a beat. Percussionists tend to compliment music and lend little to the actual style and feel of it. That's not the case with Stabbing Westward where percussion plays just an important role in the music as do the guitar, bass, or keyboards. I don't think Stabbing Westward would be where they are today if they didn't have this uniqueness. Look at it this way... would the Peppers be all that great if it were not for Flea at the bass?

Hey you girls out there! Did you like Brandon Lee in the Crow? Yes? Then you'll love Christopher Hall cause he has that whole introverted tortured soul look going on. Plus he has a voice and attitude to match. Watching him hide in the shadows of the stage or crouch down on a light stack while running his hand through his sweaty, stringy hair while baring his soul and emotions through his lyrics was what put thoughts of Trent Reznor and Brandon Lee in my head. During the encore set he led into a song by saying "This song is about staying up late in bed thinking about your lost lover... And masturbating." I feel your pain pal.
On the flip side of Chris was keyboard player Walter Flaxus. This guy must of had a double espresso before the show cause he was bouncing all over the place. Some little teeny-bopper next to me kept calling out his name. It was cute... The first hundred times. Then it got a little old. Jim Sellers on bass, had a cool "leather-clad-ass-kicking-biker" look going on. The guy looked like a bad-ass and I definitely wouldn't want to mess with him, and before the night was through he even dove into the crowd. I think security got him back on stage with most of his clothes still intact. As for hair, in my opinion, Andy had the coolest hair cut of all the guys, plus he can whack the shit out of a set of drums. This guy could keep a beat using a dead frog and a spoon (That was a compliment). Hey girls... He's single! Another single, I do believe, and the newest member, of the band was Mark Eliopulos at guitar. Don't let the fact that he's like 22 years old fool you into thinking he can't play. He can. Oh yea... That little teeny-bopper next to me was hot for him too. I wasn't the only one annoyed by that little girlie. A cute, and of age, girl named Melissa standing next to me wanted to throw that little bitch over the balcony too. I got to talking with her and found out we had a lot in common. She was a girl after my own heart. But at shows end she bolted and I never got her number. Oh well… Such is life.

Aside from what I heard on the radio I knew nothing this band had done. I had no idea what to expect from them going into the show. Actually, knowing that they formed at WIU years back (a school known for its alcoholic consumption of which I have participated), I wasn't expecting much. They threw my limited expectations right back in my face and simply wowed me! My suggestion to you is to go see them now while they are still playing smaller venues. A band like this could easily handle a large stage, but with large stages you loose so much intimacy. Plus, when bands start playing bigger stages they sometimes become too self indulgent or commercial. See stabbing Westward now while they're still a little raw and you have the chance to get up front. I give Stabbing Westward TWO BIG OL' THUMBS UP WITH A SHOT OF JD and I'm Stu Gotz! Salute!!! :-)