Stabbing Westward
A Concert Review
I don't really know what possessed me to go see Stabbing Westward this time knowing that they were playing the night before I was flying out of town. I knew I would backlogged with a million things to do before I left, and I really wanted a good night's sleep before leaving. But I guess what really did possess me in the end was that I really like Stabbing Westward, know they put on one hell of a show, and think their latest CD, "Darkest Days," is pretty much just awesome.

So, it was with slight upsetedness at myself for scheduling a concert to review this night that I made that drive into the big city to see the boys of Stabbing Westward, sans Andy Kubiszewski, who was still recovering from a rollerblading accident. Was it worth it not getting any sleep before my flight, still leaving a few things undone, and having to contend with night roadwork which made my drive home an hour longer? You bet your ass it was!
It's been about a year and a half since I last saw Stabbing Westward and I almost forgot just how much energy they blast into their show. From the opening of "Drugstore" to when I left a little after "What Do I Have To Do," ( I left knowing the drive that awaited for me to get home, and my flight the next day, although from what I'm told about the rest of the show I am still kicking myself in the ass) Stabbing Westward showed that they are constantly improving in both their music as well as their stage presence.

Musically, even with the iffy acoustics of The Riviera in Chicago, the band sounded great. Chris Hall's vocals had that perfect mix of haunting, rage, and sincerity that makes every person who has ever been through a break-up relate, while Mark Eliopulos and Jim Sellers blasted the guitar and bass that are really enhancing the keyboard programming of Walter Flakus better than ever, especially on the newer material from "Darkest Days." I did miss the drumming of Andy, although his replacement did a decent job, but there was always just this attitude Andy gave that took things a little more over the top. So, musically, the show sounded great, but a lot of bands can do that - what about the dudes on stage?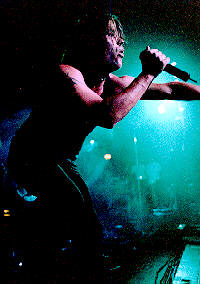 A

Well, as much as Stabbing Westward's music can be deep, dark, and depressing, this time around the band seemed to just be busting with a confidence I don't remember from them in the past. Maybe it's because they were back in front of their hometown crowd, maybe it's because they were on a big ol' stage rather than confined to a smaller venue, or maybe it's just the tour confidence that has come in time, but in any case the band had a stage to work, and they worked it all. Chris couldn't stop moving, back and forth, side to side, leaning over the crowd, and belting out every song with the consistent intensity I remember him. And while Chris was belting out the songs, Mark and Jim were doing their best to fill in the spaces. You know me, I'm always looking for a stage show, and the boys of Stabbing Westward are beginning to rank up there with the best of them.

So, what did they play? Well, a pretty good contingent of the songs came from "Darkest Days," songs like "Drugstore," "Save Yourself," and "How Can I Hold On," but they did play standards from "Ungod" and "Whither, Blister, Burn and Peel" like "What Do I Have To Do" and "Nothing." I'm also told they hit the likes of "Shame," "Lies," and "Violent Mood Swings," but sadly I left before them. But even more sadly, and why I will continue to kick myself in the ass for a while longer, is as I perused the internet prior to writing this review I read a brief synopsis from a concert-goer at the Chicago show who said they also played "Ungod," which they haven't played in like, forever. That will learn me to leave a show early in favor of some sleep. Sleep shmeep, I should have taken some well given previous advice and I should sleep when I'm dead.

Oh well, even possibly missing "Ungod," Stabbing Westward's show this night at The Riviera still kicked ass. It was great seeing them on a stage big enough for the band to open up and really work a crowd, and they are doing it well. I'm looking forward to seeing them again, hopefully Andy will make it back from his injury alright, and you can bet your ass I won't be leaving early next time, no matter what awaits me the next day. It's TWO BIG OL' THUMBS UP for Stabbing Westward!

That's it for this one, I'm The Dude on the Right!!! L8R!!