Chicago
with Hall & Oates and Billy Mann
A Concert Review
The last time I saw Chicago was about ten years ago. Some friends and I went to go see them at Taste of Chicago and snuck into the preferred seating area so we could see better. It was hot, we drank too much, but we were afraid to go to the bathroom and lose our seats. Along with feeling somewhat uncomfortable, the other thing I remember about that show was that it just plain kicked ass.

This latest trip to see Chicago brought a slightly different experience. The show was at the elegant Rosemont Theatre just outside of Chicago (the city), the air-conditioning was a comfortable 70ish degrees, and other than the "Chatty Charlies" sitting behind me I was very comfortable. All of these things being different, there was one thing still the same - Chicago just plain kicked ass.

So, in my comfortable surroundings, Chicago was headlining a double bill with Hall & Oates, while Billy Mann, calling himself "the appetizer," opened it all (more on them later). Yes, it was sort of nostalgic, especially when the band announced that this was their 32nd touring season. The first thing that popped into my head was "Shit, that's longer than I am old!" So as I sat there enjoying the show I realized that nearly every song had taken me through a phase in my life. There was me being a little guy singing the likes of "25 or 6 to 4" and "Beginnings" while playing a plastic trumpet;
There was me in my formative high school years hoping songs like "You're the Inspiration" and "Hard to Say I'm Sorry" would help my girlfriend see my sensitive side; and there was me, as they played their latest single, "All Roads Lead to You," knowing what always had me liking Chicago and what set them apart from my other favorites - those horns. Well, enough about me and my growing up, what about the show?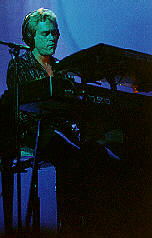 Well, like many things Chicago, the city, is famous for, Chicago, the band, ranks up there with the likes of the Cubs, the Bulls, the Sears Tower, and Al Capone. With that there always seem to be this way-cool attitude when Chicago is playing for the hometown crowd. The lights go out and the crowd goes a little nuts; the band comes out (sans horns) and the crowd's nuttiness goes a little higher, and then came the horns and the crowd reaches full volume. Seeing this, well, the band knows their part and tosses in a 2ish hour show that showcased every talent and sound that is Chicago - from the harmonies that were always on, to the guitar jamming that mixed the right amount of posing and posturing; from the keyboard melodies, to the horn section - this show showed that as cool as music is, everyone in the band still has their own attitude.

Examples of this were totally evident throughout the show. Bill Champlin, perched upon his pedestal, stage-right, kinda just hung out there, totally content, while Robert Lamm tended to play leader-type from his perch in the middle. And while the rest of the band had the cool contentment, just played their guitars off, or sang, it was that horn section that hit the opposite end and came off ass the goofballs, with spunky attitudes, and giving that sound that really sets Chicago apart from most other bands.

From "Colour My World" to "Does Anybody Really Know What Time It Is," from "Saturday In the Park" to "All Roads Lead to You," the boys of the band showed why they have been able to last 32 years (alright, yes, the band has gone through a few transformations, but the sound is still there) while other bands are lucky to last one - great songs to listen to on the radio combined with a committed showmanship for the fans when seeing them live. Many bands after the years just tend to end up on stage, going through the motions, and more with the attitude of "Where's our paycheck? - We want to go home." Chicago, on the other hand, just looked they were having so much fun - and that relates to the fans, as was totally evident as the first floor folks bolted from their seats, rushing the isles, as those way-familiar notes leading into "Does Anybody Really Know What Time It Is" began. Chicago knows when to let the crowd lead, they know when to push back a little, and then know how to blast it all out - complete with letting a bass solo go and a way-cool drum solo with lights flashing all over the place.

Well, in case you couldn't figure it out, Chicago still puts on one hell of a show, and from the mixed age group (pre-teen to grandparents) you can see that their influence is still running rampant. And you know, even through the "Chatty Charlies" behind me being their chattiest during "If You Leave Me Now," I didn't care because I just thought back to grade school, playing baritone horn, and thinking "Horns in a rock band - that's cool!"

So, without further ado, it's TWO HUGEMOUNGOUS THUMBS UP for Chicago. They still kick ass, even after 32 years. Even so, as I was making my way up the isle, I think I figured out what would really take the band to their next 32 years - a rusty baritone horn player who can smile and entertain the crowd with the best of them. I'm available, and I guess I can always dream!

Alright, Chicago was the main event this night, but on the double-bill was Hall & Oates, and I will say that they surprised the hell out of me.

Back to my history a little - There was one song on my K-Tel "Pure Power" record that I wore out and that was "She's Gone." They played that (although they jazzed it up a little and made it ready for new-age radio) along with most of the hits they were known for - "Maneater," "Out of Touch," "Sara Smile," as well as touching on some newer material, which, kinda like the "She's Gone" version, sounded more new-age and jazzish than the rock style I remember them for, but this didn't effect the crowd any - they loved it all.

Daryl Hall was still sounding great, although he did struggle a tad on some of those high notes, and John Oates showed me that he can play guitar, and really play, and I never realized that. But, for me, Hall & Oates weren't much on the theatrics of putting on a live show. Daryl usually just sang while John usually just played, and although sounding good there seemed to be a lack of emotion. For that I was a little disappointed, but I think I was the only one because the crowd didn't seem to give a damn. Daryl tried a little bit of crowd banter when people were screaming out requests - usually taunting the crowd for something difficult by saying something like "We're getting to that - how about something difficult," but when someone yelled something really obscure he just acknowledged that it was obscure, though didn't try to play it. Maybe just a complaint from me - what do I know?

Well, I'll keep the Hall & Oates portion of this review short and just leave it as TWO BIG OL' THUMBS UP. I can hear you saying something like "Hey, Dude, you just sort of wailed on the band - What's with the thumbs?" Well, I might have been slightly disappointed, but the crowd gave them a standing ovation and called them out for an encore. The crowd is always who counts, and they really seemed to like the show, so the thumbs stay up.

Now, in continuing this reverse order review, when I got to the Rosemont Theatre I questioned someone who worked there about the opening act. They said "He's some kind of comedian. He'll be up there for about 15 minutes." I'm thinking to myself "Self, I thought the opener was going to be Billy Mann, and self, isn't he a singer?" I replied to myself, "Yes, self, I think he is a singer." Thoroughly confusing myself I took my seat, and coming to the stage is Billy Mann, with a couple of buddies and a guitar, and as he started to sing I now thought to myself, "Self, this sounds like crap." Whoa, hold on there Billy Mann fans, I don't mean that the music sounded like crap, but whoever was working the sound-board had Billy and his boys sounding like they were playing in a cave. I thought I was in an echo chamber, and that was really too bad because after I trained my mind to get past the reverberations he was done. Yep, Billy Mann got about ten minutes to play, maybe fifteen, and there weren't really any jokes, so I'm sticking by my assessment that he is a singer and not a comedian. He played what sounded like great, acoustic guitar driven songs, with all kinds of messages. He smiled, seemed to know he only had 10ish minutes to get the crowd to notice him, and he did just that. With his quick set over, now I thought to myself, "Self, keep your eyes open and go and see this guy someplace different, someplace with better acoustics, and someplace where he can play more than three songs."

Billy Mann called himself the appetizer for the night, and my dictionary calls an appetizer a food or drink that stimulates the appetite. My own personal experience has shown me that appetizers are usually just as good, if not better, than the rest of the meal. My experience this night, even with the crappy sound and way-to-short set, had Billy Mann just as good as the rest of the meal. It's TWO BIG OL' THUMBS UP for Billy Mann. I am so looking forward to seeing him again, next time, hopefully, as the main coarse.

That's it for this one, I'm The Dude on the Right!! L8R!!