MPAA Rated – Not rated.
It's 1:19 Long
A Review by:
– Andy Labis
VANish
Movie Stats & Links

Starring:

Maiara Walsh, Danny Trejo, Tony Todd, Austin Abke, Bryan Bockbrader, Adam Guthrie

MPAA Rated:

Not Rated.

Released By:

Dark Sky Films

Release Date:

February 24, 2015

Kiddie Movie:

Send them to bed. Lots of blod!

Date Movie:

If she likes blood-splattering thrillers.

Gratuitous Sex:

There is an attempted rape in the van, though it doesn't turn out too well for the dude.

Gratuitous Violence:

Headshots, shotgun blasts, machetes, and a handy little cutting saw help with the blood splatter.

Action:

Not really much action.

Laughs:

Some chuckles.

Memorable Scene:

Emma kicking the crap out of Shane.

Memorable Quote:

"What kind of amateur bullshit is this?"

Directed By:

Bryan Bockbrader

Extras on the Blu-Ray:

The bloopers were decent enough, and I actually liked seeing the alternate endings.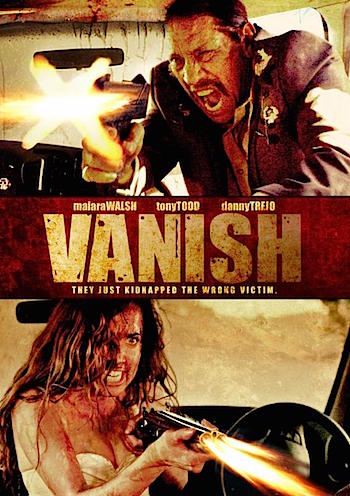 The press release said: "three thugs viciously kidnap a drug cartel boss' only daughter from her home in broad daylight." With that I was a little confused at the opening scene of VANish as a dude and his lover were being abducted at night, in the California hills. Now let's cut to the next scene of two dudes in a van, talking calmly amongst each other as dudes will talk, and I'm wondering where is the third dude? Is this the van? And what happened to those people in the first scene?
Little did I know the importance of the first abduction to the plot of the movie, to be explained during a later scene, and now I was being fully introduced to possibly the dumbest trio of kidnappers that there have ever been in a movie. That's okay, though, because the trio of dopes really made VANish an entertaining film in the realm of blood-splattering thrillers.