The Invention of Lying
Movie Stats & Links

Starring:
Ricky Gervais, Jennifer Garner, Johah Hill, Rob Lowe
MPAA Rated:
PG-13
Released By:
Warner Bros.
Web Site:
the-invention-of-lying.com
Kiddie Movie:
Nope, it's adult fare.
Date Movie:
She's probably thinking some of the same things about you.
Gratuitous Sex:
Didn't need it, though there is an almost.
Gratuitous Violence:
Nah.
Action:
Nah.
Laughs:
Lots of them.
Memorable Scene:
Mark coming up with the concept of God.
Memorable Quote:
Too many to list.
Directed By:
Ricky Gervais, Matthew Robinson
Produced By:
Lynda Obst, Oly Obst, Ricky Gervais, Dan Lin
The Invention
of Lying
A Movie Review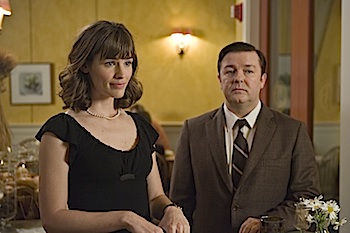 Haven't you ever been in a situation where you just wished everyone had to tell the truth? I know I have, but after watching "The Invention of Lying," when all is said and done, that world would really suck, that is unless you are the only person who can lie. Even then it ain't that great. Let's get to the story…

It's a world where everyone tells the truth. Yup, if you walk into the office people tell you how much they hate their job, if you go on a date she will tell you right off the bat that you have no chance of sleeping with her and she thinks you are kind of ugly, and if your boss is thinking of firing you, you get to live with that for days. Such is the life of Mark (Ricky Gervais), as he is just waiting for his boss to fire him, for his neighbor to kill himself, and having the infinite knowledge that the girl of his dreams, Anna (Jennifer Garner), likes him as a guy, but he has no shot of dating her because, as she bluntly tells him, his genetics are such that their children would be fat with a lousy nose, and she deserves better. I mean, life kind of seems miserable for everyone, even those who seem to be perfect, but then one day a switch goes off in Mark's brain, allowing him to lie.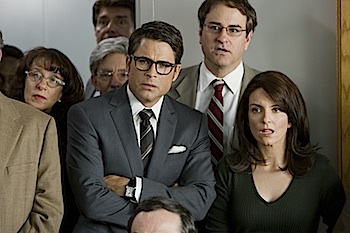 Suddenly the world is Mark's oyster. He realizes he can sleep with any woman he might want to, he realizes he can make millions of dollars, but deep down Mark is a good guy, and suddenly, in an instant of easing the pain of his dying mother, he comes up with the entire concept of religion, sort of, and everyone has to believe him because, well, no one lies (except for him).
Mark still wants Anna and does find ways to get himself back into her life, but she is still in "no lying" world, and Mark is, in the end, a good guy, so relenting the fact that she will end up with his rival, Brad (Rob Lowe), becomes a fact of life for him. But what kind of movie would that be, one that, in essence, is a romantic comedy, so we sort of know how things will go.
Me, I loved "The Invention of Lying," although both my BFF and I thought it was a tad too long (it could have really been shaved of about 10 minutes worth of movie). Many a situation in the film are exactly how you know people are thinking, and as much as I am religious, there are times, when Mark is coming up with the concept of God, heaven, and hell, when it does come off exactly as he describes. The writing in the movie is great, the jokes are quick (especially for the easily amused like me), and what really works in the movie are the likes of Ricky Gervais, who really does a great job as the dude who realizes he has this incredible power but still knows that there is a responsibility to everything he does now, and in Jennifer Garner roles, I have to say that this has been my favorite since she played Elektra (and that was mostly because she was hot), and she really shows a great comedic range and has really matured as an actress, especially when given a great role.
In the end "The Invention of Lying" is a fun time, you can relate because you have been on a date where the girl is thinking exactly what some of the scenes portray, and in the end, don't we all just want to have a big mansion and be with all of our friends and family when we die? Life is simple, lying, it ends up, is not. 4 stars out of 5 for "The Invention of Lying."
That's it for this one! I'm The Dude on the Right!! L8R!!!