High School Musical 3:
Senior Year
Movie Stats & Links

Starring:
Zac Efron, Vanessa Hudgens, Ashley Tisdale, Lucas Grabeel, Corbin Bleu
MPAA Rated:
G
Released By:
Walt Disney Home Entertainment
Kiddie Movie:
It's for the tweens and those who love The Disney Channel.
Date Movie:
If you both watch The Disney Channel and he thinks kissing is gross.
Gratuitous Sex:
Umm, no.
Gratuitous Violence:
Umm, no again.
Action:
Umm, no again, again.
Laughs:
It has some chuckles for the kids.
Memorable Scene:
None.
Memorable Quote:
None.
Directed By:
Kenny Ortega

Cool Things About the DVD

Buy a New TV!
I hate to admit, but it does look nice on a widescreen TV. Get one, already.
Buy a New Stereo!
It's got singing that always sounds better all around you.
Anything Else!
I thought the "Deleted Scenes" and "Bloopers" features were lame, but appreciated the "Sing-Along" feature, although I'm thinking the fans who get this already know all of the words.
High School Musical 3
Senior Year
A Movie/DVD Review
(On DVD Feb. 17th)
I so want to compare "High School Musical 3: Senior Year" to "Grease," but other than the fact that they are both musicals, and okay, the other fact that the underlying storyline is the stepping-stone of Senior Year in high school and its implications in relationships and life, well, they are two different animals for the simple reasons that "Grease" went a little more risqué, whereas "High School Musical 3: Senior Year" is pretty much all about wholesomeness with a touch of young love. With that I'm going to work to forget about "Grease" for this review, because it isn't fair to compare the two, and just stick with "HSM 3." Let's start with the story that I initially knew nothing about…

I suppose because I have been a single dude for a while, with a niece and nephew that are older, the only thing I knew about the "High School Musical" series was that it was a huge hit for the Disney Channel crowd, with as much cross-promotion as could be humanly possible. Low and behold the Disney people decided it was time to take the franchise to the big screen, so as the kids were growing up, it was time for Senior Year, and time for the hero and heroine, Troy (Zac Efron) and Gabriella (Vanessa Hudgens), to come to terms with separating their love as they go their different ways after high school.
And so, for HSM 3, Troy is working to understand his conflict of being the cool jock versus his love of theater, Gabriella wonders what college she should strive for, even if it means separating from Troy, a whole bunch of the kids want to get into Julliard, and they all decide to leave high school with a final musical performance to tell their story of the fun they had at school and the decisions they will all have to make as they take the next step in the journey of life. But, to create some conflict, and develop a story, most of the "musical" kids don't like the fact Troy and Gabriella are in the lead roles of the musical, especially since neither of them need the Julliard ride, but since this is a nice movie, there are final lessons to be learned by all. And through it all, they sing, and they dance, and they sing and dance a lot.
There isn't anything in this movie that will be a huge surprise to a "High School Musical" fan, I suppose, as it's nice, family storytelling, with a message that most everyone can be friends and have talents maybe they didn't even know they had, and for that "HSM 3" hits its mark. All of the people do great in their roles in that "Disney Channel" kind of way, there is a nice chemistry between Troy and Gabriella, and the songs are sweet, cute, and for the purpose of this music, very danceable in a musical kind of way. As such, for what "High School Musical 3: Senior Year," is trying to be, it does it perfectly, and for that I've got to give it, and I know our staff member Stu Gotz will hate me for this, but it's a solid 4 stars out of 5 for giving fans of the series and TV movies exactly what they will want, expect, and sing-a-long with.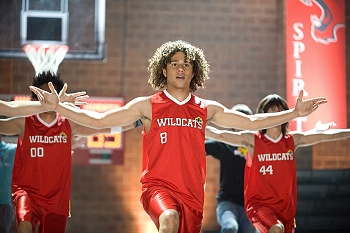 As far as the DVD, I didn't see the Blu-Ray version, which does have more interactive features, but I have to say I was disappointed in the features of the Extended Edition that included "Deleted Scenes" (okay, but nothing special), "Bloopers" (A huge disappointment because I have a feeling there might have been a lot of funnier things that happened on set), and I guess, probably much better for the girls, were the "Night of Nights" (stuff about prom even though current high school seniors probably aren't really watching this movie), and "It's All in The Dress" (okay, the little girls will like playing dress-up). About the only thing that seemed well done was the "Sing-Along" portion, so you, too, can sing-along with all of the songs in the movie, but if you are a huge fan, do you really need the lyrics flashing on the screen in Karaoke format? And also really, are the kids going to buy the DVD for the features or just to see their favorite characters sing, dance, and be friends? I'm guessing the latter.
Mom's might be okay watching this DVD with their kids, unless Dad is a theater major I'm guessing he will dread it, but for the fans, I'm guessing there is nothing better than to be able to watch "High School Musical 3: Senior Year" over and over, singing along. The only thing I wonder is if the music in "HSM 3" will live on, like the music in "Grease" still does? I suppose we'll have to wait about 20 years to find out.
That's it for this one! I'm The Dude on the Right!! L8R!!!