Extract
Movie Stats & Links

Starring:
Jason Bateman, Mila Kunis, Gene Simmons, Kristen Wiig
MPAA Rated:
R
Released By:
Buena Vista Home Entertainment
Kiddie Movie:
Put them to bed.
Date Movie:
My BFF liked it, so go ahead and watch it with her.
Gratuitous Sex:
Lots of talk but clothes are kept on.
Gratuitous Violence:
A dude loses a testicle.
Action:
Nah.
Laughs:
Lots of chuckes.
Memorable Scene:
Every scene with Ben Affleck
Memorable Quote:
Nothing sticks out.
Directed By:
Mike Judge

Cool Things About the DVD

Learn French!
It's got the normal language subtitles.
Buy a New TV!
You know what, you don't really need one.
Buy a New Stereo!
You don't need a new one of these either.
Anything Else!
The extras on the DVD are kind of lame, just a "how to make a Mike Judge Movie, and the Blu-ray only gives you a deleted scene and some extended scenes.
Extract
A Movie/DVD Review
Who knew Gene Simmons was such a great actor? Okay, maybe not great, but as scheister lawyer Joe Adler, I loved him. The movie is "Extract," and you are definitely getting this Blu-ray for the movie because the extras, well, let's get to that at the end.

Here's the story...

Jason Bateman is Joel. From his youth he has been fascinated with "extracts," you know, things like vanilla that your grandmother would use in baking. Turns out that Joel is also a chemistry wiz and developed special versions that, well, I didn't really understand it, but they are better extracts used in baking than most extracts. But, that's not important right now. What is important is that Joel has turned his knowledge into a business, owning and running a bottling plant for his extracts, being married to Suzie (Kristen Wiig), and have a best friend in Dean (Ben Affleck). But things at an extract plant can get a little hairy, especially when you don't always have the most intelligent or dedicated workforce, and especially when things aren't the greatest in your love life, as is the case with Joel, and you have recently hired the hottie Cindy (Mila Kunis).
So, Joel wrestles with whether or not he should sleep with Cindy, he hedges this by seeing if Suzie will be faithful while in the company of a new pool boy, and finally, Joel's big payday might be ruined because one of his employees has hired said scheister lawyer, Joe Adler, and might just drive the company into bankruptcy. Things are rough in the extract business, and Joel knows it.
Look, "Extract" is a Mike Judge film, and as such develops itself into a quirky look at the workplace. "Office Space" had Mike analyzing people in the corporate office, this movie has the folks in an extract processing plant, and it has its moments that I think most anyone can understand and/or relate to. The weird thing about this movie is that it takes many strange turns, from the thievery aspect of the drifter Cindy, to the setting up your wife to cheat on you aspect, to a dude getting a testicle blown off in a freak plant accident, and I think the place that "Extract" lost a little character is almost trying to have too many tentacles in the movie instead of just maintaining the focus on what could have been the funniest of aspects, namely Step getting his ball shot off and hiring Joe Adler as a lawyer.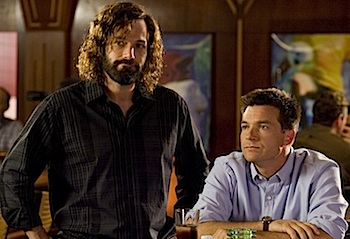 I have to say that I'm kind of happy that I didn't catch the movie in the theater, I think I would have been disappointed, but as a DVD I think it's a nice little comedy that takes a funny look at a food processing plant. For that, it's 3 out of 5 stars, especially if you enjoy the Mike Judge type of humor.
Now, as far as the Blu-ray, or the DVD for that fact, don't even worry about the extras. I mean, there's a little clip about how Mike Judge goes about putting a movie together that is nice enough, but the "Blu-ray" extras, namely the deleted scene and extended scene, aren't worth it at all. You're getting this movie on Blu-ray only because, well, you own a Blu-ray player.
That's it for this one! I'm The Dude on the Right!! L8R!!!