Rated: Not Rated | Running Time: 81 Minutes
From: IFC Films
Available on DVD and Digital Platforms:  June 12, 2018
Get it via : Amazon
| iTunes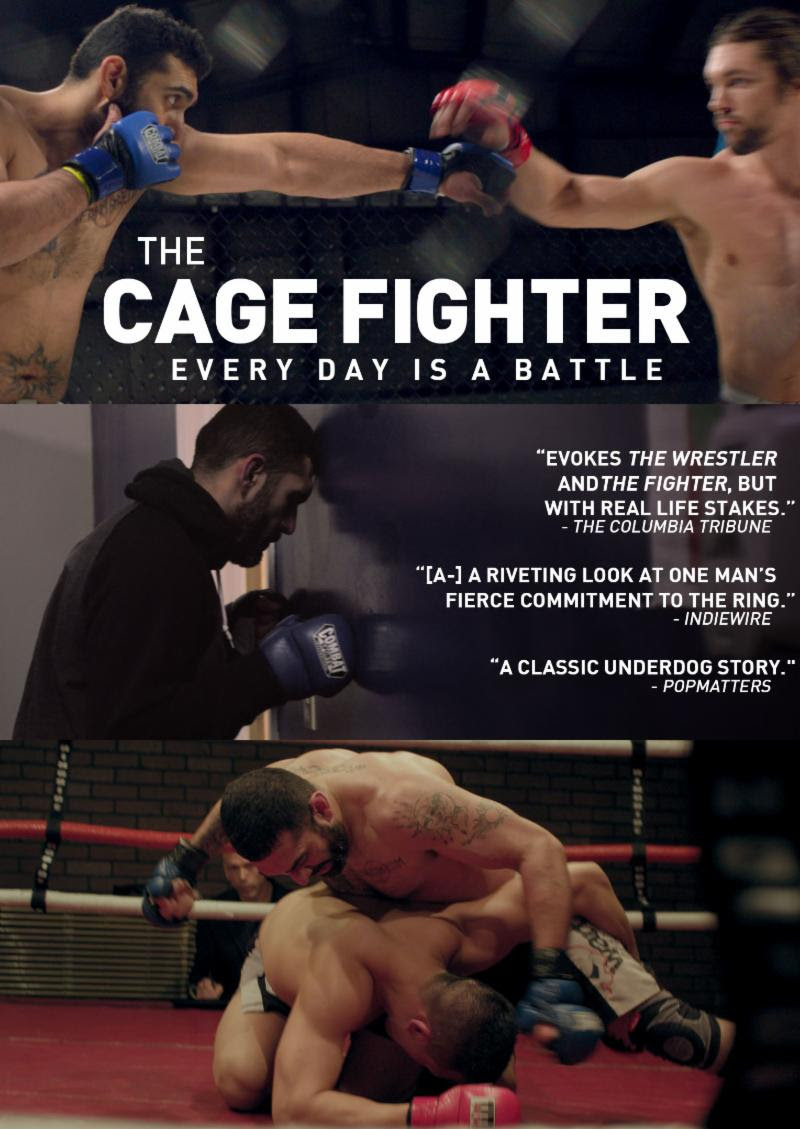 "The Cage Fighter" is kind of a weird movie. First let's get to the story.
Joe Carman is older, he's got a family, and normal people struggles. He's also a fighter, a mixed martial arts fighter for that fact, and most would consider him past his prime. Joe, however, doesn't want to be past his prime and has a few demons he must work through, or as Joe puts it, "Closure."
As the movie plays out, we see Joe with his family, him working in a boiler room, and his trying to find time to work out and train during any free time he can find. At issue, though, is he has told his family he won't fight any longer. How long can he keep the secret?
As it turns out, not that long. Yea, there are a few bumps and bruises you can probably hide, but when you get the big gash above the eye, well, the truth has to come out, and "I got a black eye. It's not hurt.", well, that really doesn't cut it with the family
Then, of course, being an older fighter, he's got health issues, as does his wife, which are playing out around him.
Most of that, in itself, sounds like it is a nice movie, in the style of a "Rocky," or one of the "Rocky" versions when he was old and washed up, only, it turns out, "The Cage Fighter" is a documentary.



I'll take the blame for not noticing "true story" in the press materials, but really, most of the release read like any other feature film, with lines like "arrives at a crossroads in his career – and life," and "one place he finds release is in the ring." While watching the movie it seemed weirdly shot, in that style of "Here's a guy with a video camera pretending to film a documentary, only it's a movie.", except this time it was documentary, complete with shaky camera movements, oddly cropped scenes, and audio that wasn't always the greatest.
Part of me wishes I had known it was a documentary at the start of the movie because then my initial notes of, "Wow, the shooting of this film is pretty bad.", and "How can a feature film have such lousy audio?", would have never hit my notepad, but then about 3/4 of the way through, I said to myself, "Self, this movie can't be this poorly made, can it?", I paused the film, looked at some quick review synopsis online. They highly touted the film, and in one of the reviews it mentioned "documentary."
After this revelation, at first, I felt like a moron, but I got over it, and suddenly everything about the film made sense. I understood the goodness in showing a true story, one that would be hard-pressed to have as good a screenplay in the same manner.
So, at first this movie was heading for 2 stars out of 5, namely because even though the story was great, the cinematography and audio was so iffy I couldn't believe it. Now, though, knowing it really basically was, some dude shooting the real life of Joe Carman, it made so much more sense, and I was able to get past the shaky video and iffy audio. Still not the greatest, but it many so much more sense I ended up rethinking things, and I'm giving it 4 stars out of 5.
"The Cage Fighter" is a documentary that plays like a movie, and a movie that plays like a documentary. Enjoy both aspects, and you'll most likely enjoy the movie, I mean documentary.
That's it for this one!  L8R!!