Rated: PG-13 | Running Time: 127 Minutes
From: Twentieth Century Fox Home Entertainment
Available on Digital HD: February 14, 2017
Available on Blu-ray & DVD: February 28, 2017
Get it via : Amazon | iTunes
Is it wrong that I found Lily Collins' acting refreshing and more enjoyable than that of Warren Beatty's in "Rules Don't Apply"? I mean, here's Warren Beatty, screen legend and not really losing any steps, playing the eccentric Howard Hughes, but Lily was a spitfire as Marla, the wannabe actress looking for her big break in a Hughes' movie.
All apologies to Warren, but that's my feelings, and I'm sticking to them.
Let's get to the movie…
It's 1958 Hollywood and Howard Hughes (Beatty) is making a new movie, maybe. He needs a lead actress, or some kind of actress, and teases auditions in front of a batch of aspiring actresses, one of them being Marla Mabrey (Collins). Marla, however, is sort of a fish out of water as she hits Hollywood, what with her being a strict Baptist, virgin. She arrives under the watchful eye of her mother, Lucy (the always wonderful Annette Bening), butt mom is in the way of her actually meeting Howard so Marla dispatches mom back home. This now leaves Marla under the watchfullness of Frank (Alden Ehrenreich). Frank is watching Marla, and being Marla's chauffeur, under the eye of Howard as Howard has hired drivers for all of his aspiring actresses because, at the time, he doesn't trust them being able to drive themselves around lest they get into trouble.
Now you can probably guess that Frank and Marla will have a thing for each other, but you also have to remember that this is the 1950's and religion can still be a bigger influence when it comes to premarital sex and commitment. Can Frank and Marla control their urges? Hmm?
Intermixed with our love story are the eccentricities of Howard Hughes in a movie that isn't so much a biopic but rather a pulling of different stories of Howard, i.e., his desire for a certain flavor of discontinued Baskin Robbins ice cream only to change his taste after gallons and gallons are procured, Howard's desire to live as a recluse, his distrust of people, etc. Now, don't get me wrong, Warren Beatty does a nice job of being eccentric, but for the better version it's really Leonardo DiCaprio's portrayal in "The Aviator" that pulls more of that together. Now, I do understand that the story of "Rules Don't Apply" isn't really supposed to focus on Howard Hughes, but unfortunately for me as I was watching it I couldn't help think of DiCaprio's portrayal. Oh well.
Anyway, our couple of lovebirds have their own things to deal with, what with Frank's obsession with real estate and trying to get Howard to invest in it, while Marla wrestles between her faith and the Hollywood lifestyle. As is the usual case from the stories, things never go smoothly for anyone involved around the life of Howard Hughes, and neither does it go for Frank and Marla.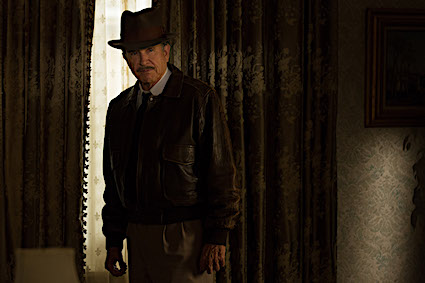 Here's the problem, though, I didn't really care about most of what was happening on the screen. Sure, Marla was fun to watch, but I wasn't really buying most of the love story, and the Howard Hughes stuff actually got in the way of most of it. It was kind of a bummer as the movie just seemed to keep dragging on and on in between short bursts of fun. The secondary bummer was that with the list of actors and actresses involved in this film, from Beatty to Bening, from Matthew Broderick to Martin Sheen, and from Oliver Platt to Candice Bergen, "Rules Don't Apply" had the star power to be so much more.
Okay, I think the movie should have focused more on the love story, I didn't really care for the Frank character, and Howard Hughes actually got in the way, but thank God for Lily Collins and her portrayal of Marla that kept things fun. At the end of the night it's 2 stars out of 5. My wife fell asleep while watching the movie, I drifted kind of wishing I had my laptop on the couch to check some internet stuff, and kept looking at how much time was left. That wasn't a good sign.
That's it for this one! L8R!!