Rated: Unrated | Running Time: 83 Minutes
From: Virgil Films
Available in Select Theaters: February 24, 2017
Available on VOD & HD Digital: February 28, 2017
Get it via : Amazon
| iTunes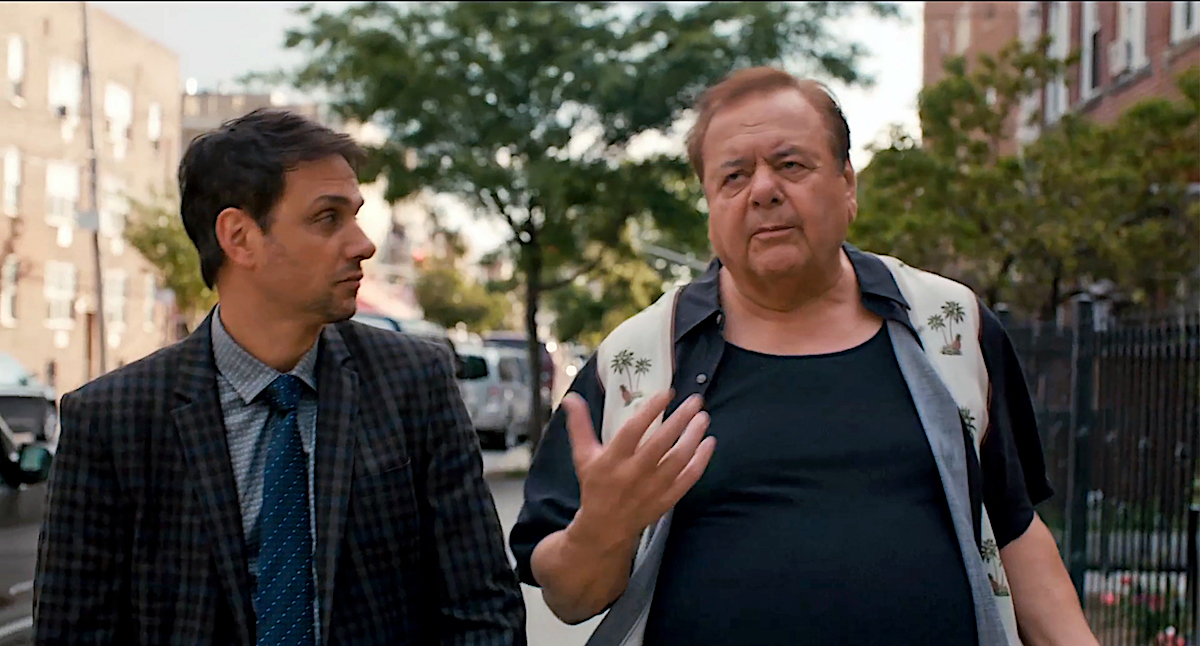 I will admit there are times when I get movies to review and I will start the movie at near about the same time I open my laptop. Usually it's because the movie seems like it will be a "there's 90 minutes I will never get back" kind of film, so I try to at least keep a few of the minutes to myself as multitasking sometimes becomes the order of the movie-watching. "Lost Cat Corona" started much the same way as the synopsis seemed kind of generic – Man goes out looking for a lost cat and funny ensues, and no offense to Ralph Macchio, but having Ralph Macchio, who hasn't been really tearing up the silver screen lately, almost made it seem like one of those "He's trying to make a come-back" films.
Quickly, however, the laptop was closed, and dammit, funny did ensue.
Dominic (Macchio) is married to Connie (the wonderful Gina Gershon). Connie is kind of a pill when it comes to being a wife, and Dominic is kind of a wimp. When Leonard the cat gets out of the house and comes up missing Connie dispatches Dominic to find him while she goes to the hospital with her mom for a hernia operation. Dominic is annoyed but, because he is that kind of a wimp, he is off to find the cat.
At the start he enlists the help of his friend, Ponce (David Zayas). Ponce is on a Vespa kind of thing, Dominic is on a girl's bike, and it's time to peruse the neighborhood. Oddly enough they find a bag of money with a cut off ear in it. Weird.
As the movie continues it is cutaway time from our cat-searching boys as we learn more about the rest of the cast of characters in the movie. We come across a couple of punk kids, the veteran who had his Purple Heart stolen, a thug named Sue (Jeff Kober) with his cronies, and Dominic's childhood friend Sal (Adam Ferrera).
Now the question becomes how all of the little plots and characters will intertwine by the end of the movie, and dammit if writer/director Anthony Tarsitano didn't do a wonderful job of mixing up these fun characters.
As much as "Lost Cat Corona" is about weirdness just trying to find a cat, it's also about Dominic soul-searching his own life, and his own wimpy-ness, and who better to help with figuring this out than the great Paul Sorvino as Uncle Sam. Sorvino, as usual, is both a wonderful delight on the screen, as well as very wise!
Things keep getting weird in the neighborhood as Dominic finds himself peddling fake handbags, avoiding Connie's constant barrage of phone calls asking if he found the cat yet, and trying not to get in a fight with Sue.
Finally everything starts coming together, the real fun begins, and Dominic finds himself, and yes Leonad, but not before the wonderful exchange with the owner of the corner store: "Are you having a nice day?"
Dominic: "Nice day? I was chased by a rabid dog, I had a pool stick almost shoved up into my skull, my oldest friend is a lying prick, and I had a gun pulled on me!"
Clerk: "So much good fortune in one day!"
"Lost Cat Corona" was a wonderful little surprise of a movie. I forgot how much I liked Ralph Macchio just kind of having fun (It reminded me of him in "Beer League,") it was great to see Paul Sorvino if even in a small role, and I loved the quick scenes of Leonard always one step away from Dominic.
At the end of the movie I felt kind of like Dominic, "What the fuck, I'm good.", especially since I didn't waste 83 minutes of my life. It's 4 1/2 stars out of 5 for "Lost Cat Corona." Enjoy the bike ride.
That's it for this one! L8R!!