Rated: R | Running Time: 84 Minutes
From: Lionsgate
Available on Blu-ray, DVD, and Digital HD on June 14, 2016
Get it via Amazon | iTunes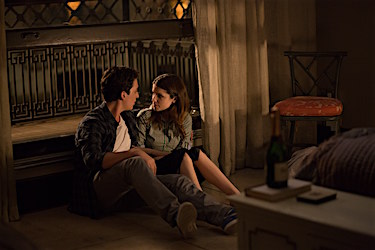 As I was watching "Get a Job," one prevailing sentiment kept occurring between the jokes that seemed to be trying too hard, and that was "Hey, thats…," and "That's the dude from…," and "She was in…," and "I remember him." Then, at the end of it all, all I could really wonder was "How did most of these bigger-name people, folks like Christopher 'Superbad' Mintz-Plasse, Marcia 'in a whole bunch of everything' Gay Harden, John 'Harold and Kumar' Cho, Jorge 'Lost' Garcia, Jay 'Saturday Night Live' Pharoah, Anna 'Pitch Perfect' Kendrick and Bryan 'Breaking Bad' Cranston get in this pretty average 'coming of age' kind of movie?"
Let's get to the story, I suppose…
As the millennials start to take over the world their first challenge will be getting out of college, with a boatload of debt, and instantly realizing that the older folks aren't going to put up with their millennial, entitlement crap. That's the problem Will (Miles Teller) and Jillian (Anna Kendrick) are now up against. They are boyfriend and girlfriend, both thinking it will be a breeze to get their careers going, and while Jillian struggles with Will living with a bunch of loser buddies, who, yes, smoke bongs and play video games all day, Will is also struggling with the realization that finding a good job won't be that easy, and the money train is going away since dad (Brian Cranston) recently lost his gig.
As the movie trods along Will ends up in corporate America making video resumes, mostly for older professionals losing their jobs, and his friends also are finding their stride in their own careers. When push comes to making a living, at the end of it all Jillian won't let Will solidify his being under the thumb of Katherine (Marcia Gay Harden), because, well, millennials shouldn't be held down by the man, or woman. Through all of the rehashed "coming-of-age" jokes, the movie ends trying to make us all feel that everything will be okay for the millennials once they realize they can't always get a trophy.
"Get a Job" is a nice, little movie, but gets a little too mixed up between trying to decide if it wants to be an all-out comedy, like a "Superbad" or "American Pie" for the millennials, or a somewhat more serious movie about the challenges the millennials will be facing as they begin to enter the "real" world. I think it would have fared a little better on the serious side because unless you are pulling out all of the stops in the world of bong smoking, video game playing, sex, and drinking goat semen, all it really does is take away from what could have been a better romantic dromedy, especially with the talents of Anna Kendrick.
Kendrick was her normal, adorable self, Bryan Cranston was the awesomeness that is Mr. Cranston, Jay Pharoah was the funny-man, but I just didn't buy the character of Will. I guess millennials will have to keep looking for their gross-out comedy they will watch until they are ninety because "Get a Job" isn't it, although there is one, really funny scene, with one of the roommates as a coach, explaining to the next generation that they shouldn't get participation trophies because they will end up like him.
At the end of it all "Get a Job" isn't anything special although there was some potential that got lost in the trying to be a gross-out comedy. It's a little too bad all of the talent in the movie was wasted in this 2 1/2 out of 5 star movie.
As far as extras, don't really worry about them because the "Video Resume Outtakes" aren't really that entertaining, and the cast interviews are okay, but we all know Bryan Cranston is an awesome actor.
That's it for this one! L8R!!