MPAA Rated – Not Rated
It's 1:30 Long
A Review by:
– Andy Labis
Bound By Flesh
Movie Stats & Links

Starring:

Daisy Hilton, Violet Hilton

MPAA Rated:

Not Rated

Released By:

IFC Films

Release Date:

October 28, 2014

Kiddie Movie:

Nah, it's a documentary. They'd be bored.

Date Movie:

If she's a documentary kind of girl.

Gratuitous Sex:

There's talk.

Gratuitous Violence:

Nah.

Action:

Nah.

Laughs:

Some chuckles at some stories.

Memorable Scene:

It was interesting seeing the sisters performing together.

Memorable Quote:

"Freakery sells."

Directed By:

Leslie Zemeckis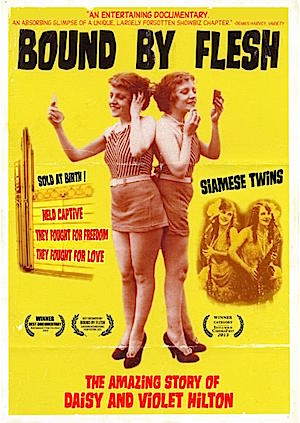 Think about your best friend, your wife, your sibling. You like them, don't you? You probably generally like to be around them? Now picture being attached to them, and I'm not talking emotionally, but physically attached, kind of around the butt area, for 60 years. Granted you didn't start out that way, but Daisy and Violet Hilton were born, as conjoined twins, and "Bound By Flesh" gives a fascinating, yet kind of sad look at the ladies who had fame, sort of, but because of the people around them had nothing, really, but each other.
"Bound By Flesh" takes you on the journey, from birth to death, of Daisy and Violet. We learn early on that their Mom was devastated when they were born, feeling punished by God because she was having children out of wedlock. Mom was a barmaid, and though she wanted no part of the kids, her boss, Mary Hilton, saw financial potential in exploiting the kids so she bought them from mom. Thus began a life of being trotted out in front of people, bar patrons "testing" their connection, and isolation and control so that the girls couldn't have a life.
The girls were taught music and dancing, oddly enough, so as their life progressed they ended up in the carnival circuit mostly thanks to Edith and Myer Myers, a couple who ended up with the twins after Mary Hilton died. They did well because, as one guy puts it in the documentary, "Freakery sells."
Eventually a few people around them gave them the courage to sue Myer, and they won, but a life of isolation, and getting older, didn't prove helpful to the sisters as bad business decisions and failed relationships followed them for most of the rest of their lives. Yes, they became one of the highest grossing acts in Vaudeville, but as is cautioned in the documentary, be careful what you wish for because now, without the control of Myers, the girls were free, promiscuous, and general party girls who could never figure out who the con-men were, and also never had decent guidance for the rest of their lives, losing touch with the changing world and not being able to understand why people didn't want to see them any longer, nor understanding the business of it all, and failing to see that as they grew older their popularity went away.
Stranded in North Carolina by their tour manager and left with nothing, the twins, who at a time seemingly had it all, were hired by a local grocery store, and it's there they lived out the rest of their lives. Working at the store gave them a little money, but more for the ladies, it gave them time to reminisce with the staff and customers as all they really wanted to do was entertain.
They could have been separated later in life, but Daisy and Violet, by this time, realized their lives were one, and they probably couldn't survive without each other, and in the end Violet came down with the flu. Daisy made the decision to lie there, in their little home, and die along side her sister.
"Bound by Flesh" is a fantastic documentary showing both the ups, but mostly downs, of the Hilton sisters. Their lives are reminiscent of many child and young actors, where the manager or family pretty much steals everything from them, and eventually they become "whatever happened" anecdotes. The other thing about the documentary is that as much as it's about the sisters, it's also a great look a the early days of the carnival and of the side-show, how the shows got their start as outgrowths of the Columbian Exposition in Chicago, as well as the rise and fall of Vaudeville, and it's relation to the sisters.
Fascinating yet sad lives, if you are looking for a wonderful documentary I must say I really enjoyed "Bound by Flesh." It's 4 out of 5 stars for this great look at two ladies who could have had so much more if it weren't for the scumbags around them.
That's it for this one! L8R!!