MPAA Rated – PG-13
It's 1:56 Long
A Review by:
– The Dude on the Right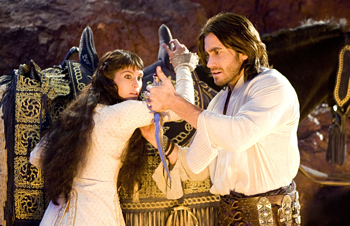 Prince of Persia: The Sands of Time
Movie Stats & Links

Starring:

Jake Gyllenhaal, Gemma Arterton, Ben Kingsley

MPAA Rated:

PG-13

Released By:

Walt Disney Studios Home Entertainnent

Kiddie Movie:

It's better for the older kiddies.

Date Movie:

My BFF liked it, so go ahead and snuggle.

Gratuitous Sex:

The Princess wears some skimpy outfits is about it.

Gratuitous Violence:

There's a lot of swordplay and people getting stabbed.

Action:

Lots of chasing and running around.

Laughs:

A chuckle here and there.

Memorable Scene:

Whenever the dagger gets used.

Memorable Quote:

Nothing.

Directed By:

Mike Newell

Blu-ray Cool Things:

The deleted scene is useless, but for film buffs the "CineExplore: The Sands of Time" is kind of like a visual commentary track.
I guess I hate to put it this way, but it seems that "Prince of Persia: The Sands of Time" is a dudette flick. I say this simply by viewing it with my fiancé, whom, after we finished the movie, simply said "It was under two hours. It had a happy ending. I liked it." Yup, my fiancé has a pretty simple scale for her liking of movies, and yes, she does have to actually like the movie, but as the credits started to roll, and I looked at her and said "Ehh," she stated her case based on her ratings scale, I said "Really, you liked it?" and she replied "Yes I did." Hmm?
So let's start with the story… Jake Gyllenhaal is Dastan. He's a little kid in the land of Persia and in a showing of courage, the King decides to adopt him, making him that adopted brother, and Prince, of Persia. He has two other brothers and they actually seem to get along in that brotherly way, and all is well with the kingdom. As the story goes the soldiers come across the land of Alamut, a holy land pretty much left alone in the kingdom, but through a "spy" it seems the Alamutians might be running weapons to the enemies of the Persians. Looking to strike while the iron is hot, with a bit of surprise, the boys, and the King's brother, Nizam (Ben Kingsley), decide to attack, and in doing so Dastan ends up with this dagger. There is much rejoicing, it is deemed that Dastan should marry Tamina, the Princess/rulerish dudette of Alamut, but then the King dies from a poisoned cloak thing.
Well, Dastan is framed for the King's death, he runs off with Tamina and decides he has to clear his name and also finds out that the dagger has this magic sand that can turn back time a bit. He learns of the true nature of the sand from Tamina, how it came to be, and the resulting problem should the sand fall into the wrong hands.
And so, for the remainder of the movie, Dastan and Tamina go through adventure after adventure in their quest to prove the good name of our hero, and secure the sand from the bad people.
Look, the movie is grandiose in scale, looks beautiful, but for me just seemed to keep getting itself too complicated in the treachery, the mysticism, and the 3-D-ness effects that were there for the movie in the theater, and maybe will be there for the 3-D TV's in the future, but for even the Blu-ray scenes it was like wasted screen time when we get it, snakes fly at you in 3-D but don't do it on my current flat screen.
Jake Gyllenhaal is good enough as Prince Dastan, Gemma Arterton is snippy and pretty as the Princess Tamina, and the film looks great, but I just kept sitting there on my couch waiting for the movie get to its ending, an ending that I thought went too far back in time, but then again, I guess it had to in order for the happy ending. I can see the kids liking it, I can see the dudes being okay with it, but for me it seemed about a 2 star movie that wanted to be a lot more than it ended up being For my BFF, though, she liked the story, it was under two hours, and had a happy ending and felt it was about a 3 1/2 star movie. I'll average them together and round up to finally give the movie 3 stars out of 5. What do I know?
As far as the Blu-ray kinds of stuff, I still am trying to figure out why the Blu-ray version has a deleted scene that does nothing, really, but show some cut off heads on a platter. It does, though, for movie buffs, give an interesting, kind of "commentary" track, where if you watch the movie via the "Bonus Features" menu, there will be this dagger that shows up every now and then that if you use your remote, you can get a boat-load of "making of," "how did they do that," and tidbits about the movie. It's kind of cool, at least the first couple of times, but it does get a little tedious waiting for the "dagger" to do it's magic every time – I suggest using the index to see the things you really want to learn about quicker.
All in all a decent film to watch with your more adult children, or go ahead, snuggle with your honey on the couch while she checks out Jake's abs, but for me the movie got lost in a lot of grandioseness that actually took away from the story.