Two good ol' boys!

So, I'm cruising down the highway in my T-Bird to lovely Merrillville, Indiana, and for a change, on my way out of the Chicago area, there isn't any traffic. Great, I'm going to be way early for this double bill of double trouble with Travis Tritt and Marty Stuart. At least I got a good parking spot.

Killing time, I'm just haplessly walking around the Star Plaza Theatre when I notice all these Crown Royal banners. Now, all of my friends just know how I love Crown Royal, and I was almost hoping they were giving it away free, but, it's probably a good thing they weren't or there'd probably be no review or pictures because I'd be passed out in a corner somewhere. Nope, seems this show was one of the stops on the Crown Royal Country Music Series. I know everyone needs a sponsor, and hey, Crown Royal seemed like a good one to me, but little did I know something. A few days after the show I get a phone call. "Dude (well, she didn't really call me 'Dude', in case you haven't figured that isn't my real name - my parents weren't that cruel. Anyway…she continued), I noticed you were at the show and wanted to let you know about the CRCMS (that's short for Crown Royal Country Music Series)." And I thought they were a boring old sponsor. Well, whoop my butt and send me to my room, it seems that part of the proceeds from shows on the CRCMS actually go to something cool, and that's Teach for America. They are a group that takes college grads and sends them to schools in lower income areas to help the little ones learn those important things in life. You know, readin' and math and better writin' than us here at Entertainment Ave! So, you'll be happy to know that the next time you visit one of these CRCMS shows, your hard-earned dollar isn't just going to the artist, the road crew, the venue, and just about everyone else getting a cut of your ticket dollar - part of it is also going to a good cause. I'm told they've given over $400,000 to Teach for America in the four years they've been doing it, and well, since I really should get to the review part of this article, if you want more info on the CRCMS or Teach for America, e-mail me and I'll direct you to the right people. (Sorry for the big-ol intro, I'll plug near any good cause if it deals with a review. Just remember, I may be easy, but I'm not cheap!) Well, on to the show.
Marty, look at that!

Travis Tritt and Marty Stuart did one of these "Double Trouble" tour type things a few years back, and I was sorry I missed it because I heard it was a good show. I'm a pretty big Travis Tritt fan, and although not big on Marty Stuart, I always heard he was a good performer. Put the two of them together, and let me tell you, they don't just put on a good show, they put on one hell of a great show.

I wasn't sure exactly how this show was going to proceed. I knew Travis and Marty would do some songs together, but I wasn't sure how or when. But, I the end, it was really cool the way they pulled this nearly three hour show off. The lights went out, the fans started screaming, and Travis and Marty make their way to the stage with Marty's band behind them. It was honky tonkin' time and time for the first electric set of the pair. A couple of songs, "Honky Tonkin's What I Do Best" being one of them, and Travis left the stage for Marty to have his set. I'm sitting there thinking to myself, "Self, that's it, two songs, what a gyp." But Marty had his time, so I would see exactly what he was all about.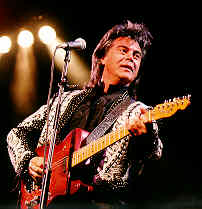 Marty flyin' solo.

A lot of shows give me a greater appreciation for an artist, and Marty's show was no different. With a sort-of prison set behind him, complete with chain-link fence and barbed-wire, Marty blasted through almost an hour of hits and new songs. I was impressed that this guy is a much better guitarist than I had realized, I was impressed that he played with Johnny Cash years ago, I was impressed with his varying the set list from up-tempo to slower songs without losing the interest of the crowd, and I was impressed he dropped balloons on the crowd. Alright, the balloons didn't really impress me, and maybe it was kinda cheesy, but balloons are always fun at a concert, and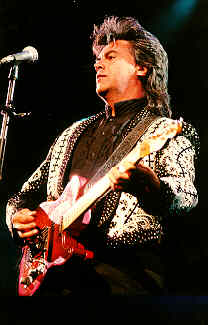 Cheer up - the crowd loves you!

things were no different here.

Marty Stuart rocked. He kicked ass and took names, and every song had the crowd singing along (all except those new ones - but that will come in time). From "Touch Me, Turn Me On, and Burn Me Down" to "Hillbilly Rock," I must say Marty Stuart made a newer fan out of me, and the crowd had a blast. Yep, it's TWO THUMBS UP for the Marty-man.

So, Marty leaves the stage, the curtains are closing, and people are heading for the beer stands and, well, to get rid of that beer they had before. Too bad for them, they were caught holding their money and other things when Travis and Marty came out and took seats on two stools set up on stage. The curtain was closed behind them and the boys proceeded to about three-ish numbers that had the crowd who left throwing the money at the beer vvh every "turn around to show his butt" moment, even though they couldn't dance, the women loved it. The guys just loved being able to sing songs like "Here's A Quarter (Call Someone Who Cares)" and "Ten Feet Tall and Bulletproof." And the Travis-man get TWO BIG THUMBS UP too.

But the night wasn't over.

Nope, Marty comes back and joins Travis for one last time, and me, who thought at the beginning it would really suck if they only did two songs together, had now gotten his fill of two super-talented country dudes playing along. Yep, "Hard Times and Misery," "The Whiskey Ain't Workin'," and "Double Trouble" worked to close a show that was nearly three hours of just hard drivin' country, tear-jerkin' ballads, and, in the immortal words to one of the greatest bad TV theme songs of all times, two good ol' boys never meanin' no harm. Travis and Marty put on one hell of a show, and hey, it's even for a good cause. Way cool!

And that's it for this one, I'm The Dude on the Right. L8R!