Related links at Entertainment Ave!
None yet.
Other Links:
www.tesh.com
John Tesh
A Concert Review
John Tesh

All of my friends thought I was crazy - It's my birthday and I tell them I'm going to cover John Tesh. After the laughter died down, they asked me seriously, how was I going to celebrate, and I explained the whole John Tesh show thing again. So then they ask who was going with me. After I told them "Nobody, I'm flying solo on this review, and in all honesty, which one of you would want to go?" They just gave me a kind of pathetic look and went home. But me, I was looking forward to seeing John Tesh and I didn't really know why. See, I've never heard John Tesh play, sing, or be a musician at all. Yea, my only experience of him was his stint on "Entertainment Tonight" and as commentator during the Olympics. I've read some non-flattering reviews, usually written by rock-style critics who never seem to like any other musical style besides the current "what's happening" groups, but two people told me he puts on a great show, and Lord knows how I love a great show. Well, John Tesh put on a great show.

Arriving at The Chicago Theatre, I don't know, but I was expecting an older crowd, lots of suits and evening dresses, and just the general group of socialites that wouldn't give me the time of day even though their Rolex kept it perfectly. To my surprise I couldn't be more wrong. Yea, there were some of those socialite folk, but mixed in was a guy in jeans, cowboy boots, a flannel shirt and a "Bubba-Gump Shrimp" baseball cap (no, I'm not lying - he was there), a punk-rocker type with lots of piercings, and just a bunch of your normal, everyday people out to hear John Tesh.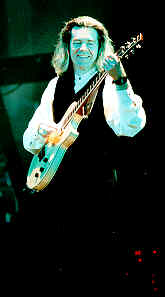 Wayne Johnson

So, first I'm shocked by the crowd, and now the show starts. I knew John Tesh played piano. Press material cited his stage shows, orchestral arrangements, and the fact that he's been making music for years. They also wrote that he's a passionate performer. I'm thinking, "Yea, right. I don't think I've ever seen him overly ecstatic in my life." My impression of him was always as the professional journalist type and didn't think that image could be shed on stage. Man, I've never been more wrong in my pre-show thinking than I was this night.

From the opener "Avalon," to the close, "Avalon Shores" (at least I'm guessing that's what my program said the songs were), I couldn't figure out why Mr. Tesh kept getting a bad wrap from people because this show was fantastic.

As I sat there listening I heard many musical varieties all tied together. Spanish stylings, Italian arrangements, jazz, classical, rock, and the list goes on and on. John Tesh led his band through two hours of total entertainment, although sometimes, as much fun and passion that John was showing, his totally talented band seemed to be having more fun, throwing out more passion, and had the benefit of being mobile (as was evident by the impromptu Conga Line) while Mr. Tesh was stuck on his piano bench. And you know, as much as this show was labeled "John Tesh", it was as much about the band the entire night too. Great solos, some dancing, and a light show that at times seems more like a fireworks display, I was having a better and better birthday which each song.
Jeff Kashiwa

The show was divided into two sets with a 25ish minute intermission. My handy little program told me that most of the songs were from John Tesh's current CD "Avalon" with other material thrown in for good measure. I must say I love great orchestral arrangements, and this show had them. The show also had more, like a duel between the bass dude and the dancer dudette, this little interlude of John Tesh testing the musical knowledge of his band (this is hard to explain, but basically Mr. Tesh would ask his bandmates to play various classical pieces, and they had fun doing it), they played the NBC Sports Theme, and Tesh also added a little explanation of how some of his songs came about.

So, I was enjoying the show and the crowd was having a great time, but the best was yet to come. Running through a couple of high-energy solos toward the end of the second set, all of a sudden a few of the band dudes jumped off the stage and started cruising the audience. The folks in the great seats were thrilled, one of the band dudes even got a kiss from a little lady (what a great way to pick up the women - I've got to reconsider my not playing in a band), but the folks in the balcony missed the fun - at least for the moment. Not to be outdone, John Tesh in the commotion dons a wireless keyboard, heads off the stage, up the isle, through the rear doors, up the stairs, and to the incredible delight of the folks in the balcony, precedes to bring the rest of his mobile band up to the cheap seats for a little private performance.

So, my birthday was coming to a close, and so was John Tesh's show. In the beginning I was all wrong about everything heading to this show - I was wrong about the crowd, I was wrong about the music, I was wrong about the passion and fun that John Tesh could convey, and now I know better. I'll be looking for "Avalon" on one of my next trips to the CD store, and the concert video coming in July of '97 (so says my program). I know both won't be able to capture the total energy and enjoyment I had at this show, but they will be a great reminder.

So, all in all, I must say that this was a great way to spend my birthday, although a little female companionship wouldn't have hurt. Even going alone, it was better than what Stu Gotz had planned - my ending up face down in a street gutter just isn't as much fun anymore - I'll save that for New Year's Eve!

Well, I don't care what those uneducated critics say - John Tesh is cool, has one hell of a band, and put on an incredible show. I loved it, the entire crowd loved it, and it's TWO HUGEMOUNGOUS THUMBS UP for Mr. Tesh and his group of traveling musicians (and dancers).

That's it for this one, I'm The Dude on the Right!!! L8R!!