Reba McEntire
A Concert Review
Reba McEntire

A review by Stu Gotz
All I can say is "Wow! That red-headed Okie with the lispy southern drawl sure can put on a show!" Really. Seeing Reba perform is like seeing an Andrew Lloyd Webber Broadway musical or a real good Vegas stage show, minus the nudity (too bad). But hey... I'll let the Dude on the Right tell you all about the technical stuff. I want to talk about the great musical talent Reba is.

I always thought I was a big Reba fan. After all, I read her book (twice) and I've got six of her CD's plus I'm a card carrying member of her fan club. Well let me tell you I'm glad the Reba police weren't out the night I saw her because she performed songs I've never heard before from records I never knew she put out. I'm so ashamed. As I sat there, not being able to sing along, I looked around and saw I wasn't the only one. That made me feel better.

Some of the old, but new to me, songs she performed were "Somebody Should Leave" and "How Blue" both from her 1984 album. She also performed a kick-ass cover of "Respect" (which she recorded back in 1988).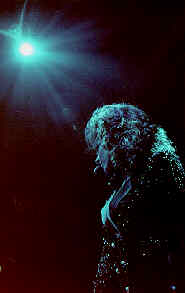 A Reba Silhoutte
The night wasn't totally devoted to the oldies. Nope. Reba pumped out all the songs we know and love her for. Songs like "Little Rock," "Walk On," "Starting Over," "Take it Back," and the, in my view, "whoring out my daughter" classic "Fancy" (I really don't like that song). Before "The Greatest Man I Never Knew" she took a little time to share a story about her own father with the audience. Let me tell you, there wasn't a dry eye in the house -including mine. That song and "For My Broken Heart" always get me. You want to know what else gets to me? The megga-babe Linda Davis! When Reba invited Linda on stage to sing "Does He Love You," the audience and I gave them a
"Does he love you?"

standing ovation and let's just say I was more than happy to get up. Then Reba showed just how big she is by having Linda live and Martina McBride & Trisha Yearwood via pre-recorded video to sing the 70's classic "On My Own" (it was originally from the 70's, wasn't it?). That was a great song and a neat techie way of performing it! The only disappointment of the night for me was that she didn't perform the Vicki Lawrence classic "That's The Nights the Light Went Out in Georgia." That and Linda didn't get naked. Oh well... maybe if Reba does Vegas she'll get her ensemble to go topless. I can only hope!

So much more than just music goes on in a Reba show. From the stage props, to the nine costume changes, and the pyrotechnics, Reba has more showcase and gimmicks than KISS ever had. And you want to know the best part? She only charges about $35 for her show. Wow! Such a deal, especially when you consider has-beens like the Eagles charge a hundred bucks a pop so you can watch them sit on stools and sing. Geeze... what a rip!

Through it all Reba and Company never missed a note or dance step. Even if your not a country music fan I guarantee you'll be entertained at a Reba show. I'm Stu Gotz and I give Reba McEntire TWO BIG THUMBS UP and well, we'll keep it kinda clean, but let's just say I really liked Linda Davis.

A review by The Dude on the Right

"Like he loves me."

Well, Stu kinda gave his take on some of the musical specifics about Reba's show, now it's my turn, but I think I'll hit it on a little more technical note. Call me the tech-nerd that I was, or still just trying to put that engineering degree to work, but as much as Reba's show is about the music (and the music is great), Reba does her best to make each year's show different, an entertainment marvel if you will. And this tour was no different.

The cute little sketch down below kinda shows how the stage is laid out. It was an interesting concept that as cool as it was, left a few things to be desired, but I'll get to the problems I had later. First, the set-up.
"Does he think of you?"

On the radio I heard her show was going to be "in-the-round." There was nothing round about this stage. Nothing at all. Take your basic basketball floor or your hockey rink - her stage set-up spans the entire length. At one end there was a boring open area (or so I thought until "Fancy," (watch for the fireworks and a magic transportation - sort of), at the opposite end was a "hangar" for her airplane, a "garage" for a cab (I still want to know how they fit all of those musicians in there at the beginning of the show), and it also turned into a huge platform with a giant staircase for some of the classier numbers. Wow! In center court was center stage with a nice little area/pit for the band and a platform riser at the rear. Leading to center stage were "runways" from the "hangar" area side and the open area side.

What else was cool - god, there was so much. Watch for the special image of the AIDS quilt during "I Think His Name Was John," itW="Begin Concert Review Bottom Ad" -->