matchbox 20
A Concert Review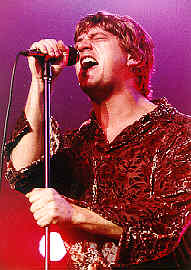 Rob Thomas

About half a year. Yep, it's taken about half a year for matchbox 20 to go from being an opening act, to playing a lot of the radio shows, to headlining a small club tour, to being the headliner and packing them in at the medium sized venues around the country. I remember the first time I saw them, opening for Jackopierce. I remember the second time I saw them, doing a pretty cool interview and finding out a lot about the boys. I remember the third time I saw them, they were headlining a small club in Chicago. I remember the fourth time I saw them, as part of the Q101 block party. And I now have a fifth experience, seeing them have a big ol' stage to run around on at The Riviera in Chicago. What's next, someplace like Soldier Field? Oh wait, they were on the bill with the Rolling Stones, so I guess now they have a mega-stage site under their belt, too. My, how some things have changed, but some things haven't - I still like matchbox 20, still think they have a chance to make it through the town of "A Couple of One Hit Wonderland," and really look forward to them getting back in the studio for, hmm, I would call it "Yourself or Someone Like You, Too." In any case, their show at The Riviera was as much fun as any of the other times I've encountered Rob, Adam, Brian, Kyle, and Paul.
Kyle Cook

So, I arrive at The Riviera in Chicago, really looking forward to seeing how matchbox 20 would handle themselves as a headliner. I already liked the band, had seen them enough to have an idea, but my curiosity was getting the best of me. As I was waiting, and just kind of hanging out and people watching, some things struck me. First off, matchbox 20 attracts a pretty decent female crowd, in quite a large age group. Sorry, I'm a heterosexual male, single, and I notice these things, and am grateful for those wristbands to signify if you are of age for an alcoholic beverage, or if I might be heading for a jail term. Anyway, I digress. Well, with the female crowd, you also had mothers and fathers bringing their daughters and sons, and some of those mothers and fathers were even hanging out on the floor section, right up front, and dare I say, I saw some of them singing along. In the back, by the bar, tended to hang out the older crowd, the working stiff dudes, dressed nicely in their collares start looking for matchbox 20's replacement.

There are some other show observations I noticed this time that have been missed from previous shows. First off, it was a very decent light show for the limitations that The Riviera can give. The moving spots, the fog (or maybe just cigarette smoke), and the light highlights really enhanced the song images of the band. Then there was the chance for Brian, Adam, and Kyle to be wireless (poor Paul - stuck pounding away behind his drum kit!). The three of them were bouncing all over the Riviera stage like kids loose on a playground, rushing back to their respective microphones and locations when the time came. And then there was Rob.

From the first show to this one, Rob has always had displayed great intensity up on stage, but he still seems a little shy as the front man. He hides a lot behind his microphone stand, and only occasionally makes his way out to the front of the crowd. I know a lot of what he sings is personal, but a lot of times he seems to be singing to himself rather than the multitude of fans. He has gotten better at working the crowd than the other times I have seem him, but his guitarists seem to be taking the charge. I guess it's just a thought, and in terms of live bands I would like to see Rob singing more to his audience rather than himself. Just me, maybe, but I won't hold it against him.

From the first time I saw matchbox 20 I have always been impressed with their energy, their passion, and their talent as a band. A lot of the hip reviewers bash them, complaining of their lyrics, their guitar-rock sound, their appeal to the younger public. These are the same reviewers that said the electronica groups would be selling all of the records in 1997. They were wrong, and I would just like to go on my soap box and say in my first review I wrote "Although if they keep things up I doubt they'll be the opening band much longer," and my CD review states "A very cool band, a very cool CD, and here's hoping you like them too." I guess many of you do.

It's TWO BIG THUMBS UP for matchbox 20 for their headlining show at The Riviera. I guess all I can really say is as cool as it was to see them being able to run around on a bigger stage, I at least had the chance to see them when they were relative nobody's. My gain, your loss!

And that's it for this one, I'm The Dude on the Right!! L8R!!