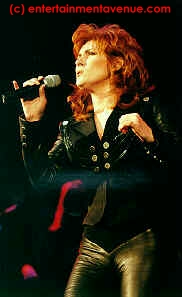 Jo Dee Messina

I'm sitting at my keyboard trying to figure out how to review a performance that's only five songs and about 25 minutes total. See, that's all Jo Dee Messina got when she opened up for the opening act for Brooks & Dunn. Well, I tend to ramble on sometimes, so let's see where this leads us.

Like most of the rest of the country, my first experience of Jo Dee was hearing "Heads Carolina, Tails California" on my local country station. I thought it was a good song with a nice hook. Then by chance I got to see her open up for Toby Keith who was opening for Joe Diffie, and from the rafter seats of the Rosemont Theatre I was duly impressed by her voice, wished the stage set-up was different for her, and thought she might just have a future on her hands. She did, however, seem a little timid in front of the crowd, using the microphone stand as a security shield, and my thought was

unless she gets from behind that mike stand and performs I doubt I'll be hearing more from her. But this time around, in front of the twenty-thousand some odd fans at the Rosemont Horizon, Jo Dee Messina showed that she should be a country artist to be reckoned with.

What stuck me about Jo Dee Messina this time was at how confident she has become on stage. From the moment she bounced on stage, rather than hide behind a microphone stand, she worked the entire audience, strutting back and forth across the stage. It's hard to captivate a crowd when you've only got five songs to do it, but I guess when you've got two radio hits, her latest one being "You're Not in Kansas Anymore," half the battle is done. She used those hits to her advantage, but used her voice and attitude to win over the early arrivals this night.

I like Jo Dee Messina and think all of the potential is there for her to make it in the long run, especially with the change in attitude from the first time I saw her. She's a lot more fun to see live than before. My only fear is that she'll be another one of those artists that ends up in the "one CD" trap and I won't hear anything from her in the future. I also hope to see her either headlining a tour, or at least given more than a five song show. If she can captivate a crowd with five songs, it would be great to see her bust through a one to two hour set eventually.

Jo Dee Messina this time around gets TWO THUMBS UP!! Here's hoping her next release is as solid as the first, and she gets the chance to play for more than 25 minutes.

That's it for this one, I'm the Dude on the Right!! L8R!!