Alanis Morissette
A Concert Review

September 1, 1996

The New World
Music Theater

Tinley Park, IL

A Review and Photos by
The Dude on the Right
Alanis Morissette

It was a night for the women to leave the men at home. It was girls night out. It was an Alanis Morissette concert. And guys, if you are a sensitive 90's guy, or even a male pig who can pretend to be a sensitive 90's guy - you know, the kind of guy who can relate and understand her "needs," the kind of guy who will hold open the door for her, the kind of guy who will "cuddle" because it's what she wants, you know, crap like that - well an Alanis concert is the place for you too because women were everywhere. It's just too bad my buddy Stu Gotz couldn't be there, although I think his head might have exploded not knowing who to go after first.

Anyway, I'm hanging at the New World Music Theatre waiting for Alanis. I'm a sensitive 90's guy, but I'm also afraid of rejection. So, I'm just kinda sittin' and listening to the opening act, K's Choice. K's Choice is this band from Belgium I believe, started by a brother and sister. The band is lead by a dudette lead singer called Sarah Bettens, and I have no idea any of the songs they played. But, musically, they're kinda a grunge-style band that kinda sounds like
Sarah Bettens of K's Choice

The Cranberries with some kinda wailing lyrics that kinda sound a little like Alanis. I guess they're kinda a lot of things, but more importantly, the crowd kinda liked them. I thought they were alright, and not knowing any of their songs kinda made me a little bored, but, good crowd response and it's a One Thumb Upper for K's Choice.

But they aren't what I was there for. No sir ree Bob. I was there on a quest to find out what might be the appeal of this little lady who seems to have it out for the male race. At least that's always the way most of the articles I've seen read. But, being there, I discovered something else. Read on and maybe you will too.

My first image of Alanis this night was through a camera lens. Pulling double duty I was filling the shoes as both photographer and reviewer. The photographer side of me thinks that Alanis is just a

big pain in the ass. She wouldn't stop moving. And I don't mean she kinda stood in one place and bounced up and down. No, that would be nice for the photographer man. She was all over the place, all over the stage, trotting back and forth across the entire length of the stage and I'm almost amazed any of the pictures came out. Whispering under my breath as the shutter would go off, I hated Alanis. The reviewer side of me has a different opinion.

Alanis is one hell of a performer.

From the opening of "All I Really Want" to her male-bashing anthem of "You Oughta Now" to playing that secret song not listed in the "Jagged Little Pill" credits (I read it's called "Your House," but don't quote me on that," Alanis worked this mostly female crowd into a frenzy while even the dudes who were there with their girlfriends seemed to either really appreciate the music or really appreciate the show she put on. See, Alanis is not one to stand behind a microphone. Not at all. Alanis is one to put every ounce of energy into every song she performs and throw that energy at the crowd. That was a good start to me.

Contrary to what most people think, Alanis has a couple of CD's from before this monstrous thing called "Jagged Little Pill." But you would never know it from seeing this show - it was about "JLP" and some unreleased songs. Now, I own "JLP" and do like it. I've listened to it many times but never really listened to the lyrics. This show taught me that as much as Alanis might have some male-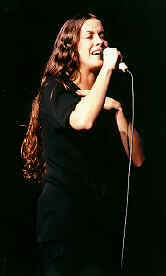 bashing songs, there are also songs that say "this guy is alright," songs of troubled childhoods, and songs of pushing yourself to the limit. I think I've figured it out that as much as Alanis related some guy-trauma to the women of the world, she also has some songs that nearly everyone can relate to. But that's just me.

As for the show, this is what you can expect. Watch Alanis trot back and forth across the stage, watch Alanis rock out on an electric guitar, watch Alanis finally stand still playing acoustic, and watch her wail on a harmonica. You'll see a couple banners stage right and stage left and this video screen behind her with clips of the "Ironic" video, some childhood scenes, and other assorted filler. You'll also experience one of the loudest sing-a-longs for "You Oughta Know" during the "are you thinking of me when you fuck her" line (let me tell you, at that moment, I was cold and I was frightened because if the women were going to revolt, us guys at this show were highly outnumbered). "Ironic" was also sing-a-long time, and Alanis even went into "There Are Worse Things I Could Do" from Grease.

Now I'm not the only one who will say Alanis doesn't have the greatest voice, but her voice is perfect for what she sings. She needs to be rough, she needs to scream and wail, she needs to shift from barely a whisper to scaring the crap out of guys, and she does all of it well. And the women, and most of the men, loved it.

If you can't figure out the rating for this review you obviously haven't read anything I've just written. Alanis gets TWO HUGE THUMBS UP!!! I'd add an extra appendage but I'd be afraid it might get cut off, so we'll just toast her with AN EXTRA BEER!!!

It should be interesting to see what her next CD brings. The new songs she does at the show are pretty cool, and it looks like Alanis-mania should go on for many more years. That is unless she falls in love with a sensitive 90's guy like me and not my buddy Stu.

That's it for this one, I'm The Dude on the Right. L8R!!