Billy Joel
A Concert Review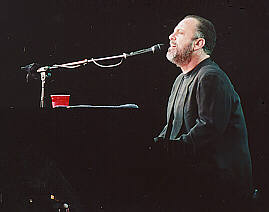 Billy Joel

It was family night at the Rosemont Horizon for Billy Joel's show this time around. Those that used to be chuckling as Billy would sing "masturbate" during "Captain Jack," or having "Just the Way You Are" played at their wedding, well, they have kids now, and a lot of those parents seemed to bring along the kids for a night out of, as Billy so eloquently put it, "a lot of old shit." And that was alright with me.

Billy Joel was in the Chicago area for a make-up date of a previously cancelled show, and he seemed generally happy that the fans adjusted their schedules accordingly. Opening with "You May Be Right," this would be a night of Billy playing most of those hits that you know and love, while still being the entertainer he is famous for.

Taking my seat, I first start my observational portion of the show. The stage set-up was similar to the last time I saw him - a piano in the middle, a walkway around to the back end of the stage, with keyboards around the walkway so that there really isn't a bad place to be sitting. Then I noticed he had a little TV on his piano and one on the floor at the front of the stage. Hmm? It was Sunday night - maybe he didn't want to miss "The X-Files?" But, as the show started, rather than a picture on the tube, it looked liked words scrolling. Hmm? Maybe it's one of those newfangled portable books? Billy has said he is getting a little tired and/or bored of playing the same songs over and over, so he might be trying to catch up on his reading during the show. I figured it couldn't be a teleprompter because he would be playing songs he has played so many times that he knew them like the back of his hand. Not that I think there's anything wrong with teleprompters, hell, the best of them have used them, so I suppose Billy could too, if he wanted. Alright, enough observationalizing. On with the show.

So, Billy opens, and from the start I knew I would not be disappointed, and neither would the crowd who matters more. The show, yea, it was a "best of" Billy Joel show, with, well, you name the song and there's a good chance he played it (except don't name "Captain Jack" nor "Just the Way You Are" because he didn't play them). But, if you were to name songs like "Allentown," "Pressure," "Innocent Man," "My Life," "The River of Dreams," "Lullabye (Goodnight, My Angel)," "Goodnight Saigon," "Scenes From an Italian Restaurant," and, well, "Piano Man" (duh?), you'd be right. And if you were to name some non-Billy Joel songs, like "My Kind of Town" or the theme for Miss America (as he gathered up dozens of roses from adoring fans), well, he played those or snippets of those as well. And if you wondered what Billy would do between songs, well, the crowd was treated to a lot of great piano-jammin' ranging from classical-ish to big band-ish; Billy poking fun at himself about songs he's written for his ex-wives; poking fun with "I hate when that happens" as he held a broken rose down by his, well, you get the idea; and telling the crowd "If I screw up one lyric it's a freakin' trainwreck… Feel free to sing along" before "We Didn't Start the Fire." He is the piano man, but just as important he is the entertainer.

The show was great, even though Billy did blow a line on "It's Still Rock and Roll to Me" (I wondered if his reading that book would get in the way!). He knows the importance of his singing, but maybe more importantly he realizes the crowd. He lets them sing when they want to, like during the chorus to "Piano Man" when the band stops, the crowd sings, and Billy spins around on his piano stool to see everyone; he lets the crowd see him, like during "Sometimes a Fantasy" when he headed to one of those rear keyboards, spinning it around (I wondered if he ever spun it around too many times and unplugged a cable) so the behind-the-stage seats were the best seats in the house; he lets the crowd go home not having to scream "One more! One more! One more!" like the lady next to me was doing before he finished the evening with "Only the Good Die Young" and "Piano Man"; and he gives advice - "Goodnight! Don't take any shit from anybody."

Could Billy Joel get a bad review from me? I highly doubt it, even if he did play at the original date and couldn't sing, because I think somehow, someway, he would still figure out how to make the crowd go away happy. That's what's important, and he does it well.

So, Billy Joel, on what may be his last show in Chicago for a while as he wraps up, what I call, his "I Need a Break From Singing All of Those Same Songs Again" tour, gets TWO "MIDDLE C" THUMBS UP from me!! I've read that he is looking to cut things back a little, maybe do some classical pieces and such, and that's alright with me. Personally, I would go see him play anything. Put him in front of a piano, let him play, and I'll be there. I bet most of you would be, too.

That's it for this one!! I'm The Dude on the Right!! L8R!!