The Guitar Trio
Al Di Meola, Paco de Lucia,
& John McLaughlin
A Concert Review
Al Di Meola

This is a show I have been waiting years to see. Paco De Lucia, Al Di Meola, and John McLaughlin together again. This is also a show I have been waiting to see since I was introduced to their first album "Friday Night in San Francisco" several years ago. I won't bore you with the gory details now, if you want to know more check out the review of their new CD "The Guitar Trio" on Verve Records You may think that three guys just playing guitars with no accompaniment would be, well, puss music at best, but that couldn't be further from the truth. They use the guitar to fill in the "spaces" that the rhythm section of a traditional band as well as for the lead. And man what leads. These are not the same 3 power chords played over and over, but precisely played leads that rotate between the three players all contained within a loose rhythm. In short, it's some of the most beautiful and intense music you will ever hear.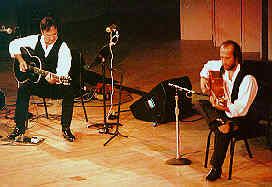 Al with Paco de Lucia

The first set started with a solo by each of the guitarists, which really showcased their individual styles. McLaughlin started with two solo pieces that displayed both his traditional jazz and Indian influences. Paco followed with a short but blazing solo with a serious flamenco style. His ability to play and knock his guitar for rhythm simultaneously is really cool to hear as well as see. The solos concluded with Di Meola showing off his jazz fusion roots, as well as a whole bunch of midi effects.

Some duets followed with Di Meola and McLaughlin performing a piece they composed for a movie soundtrack. Next, Paco and John performed "Frevo Rasgado" and the first set ended with an incredible performance of "Mediterranean Sundance" by Al and Paco, although it sounded like Al was stealing some of Paco's leads.
Paco with John McLaughlin

The second set was only three songs, and lasted all of 45 minutes. When these guys get going it's hard for them to stop. Each song, I guess composition would be a better word, was a beauty to hear. Each piece involved several lead changes, which flowed from one guitarist to the next seamlessly as the others pick up and kept the rhythm. It is an incredible sight to see and hear the individual chords played and still be able to pick out each guitar from the overwhelming sound.
John McLaughlin

Needless to say the Guitar Trio gets TWO BIG THUMBS UP from me. These three guys are hands down some of the best guitarist in the world, and the intensity of music they can create with just a guitar is just incredible, especially in an intimate live setting.

As this was my first time in Orchestra Hall, I feel I have to comment on the accommodations. The seats are small, I mean really small, because I was practically sitting on the Dude On The Right's lap. I was afraid because I think he was kinda diggin' it. Seriously though, people must have been smaller back when the Hall was built. I guess Darwin was right, and were are adapting to our environment and we will develop into a race of giants. But I digress, Orchestra Hall has the best acoustics I have ever heard. Each of the Trio's guitars came through crystal clear and the sound just filled the room. Even the faint sounds of them tapping their feet to keep time could be heard during the more quiet parts of the show. 'Till next time, Hang Loose.