The Gufs
A Concert Review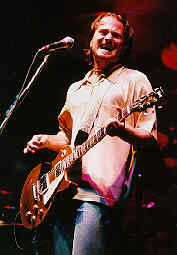 Goran Kralj

Well, I'm leaving the office on my way into the big city. It seems I'm off to cover a band called The Gufs. They were the opener for the opening band this night - it seems they are new on the big-time music scene, but in no way new to the music scene. With the city comes traffic, and I planned ample time to make it to the show early. Hmmm, the papers said the show started at 7:30, I needed to get there around 7:00, and, amazingly enough, I timed it perfectly. Well, perfectly if the papers were right because the show started at 7:00. "Shit," I'm saying to myself, "I'm missing it, and I'm stuck here standing in line." This is different, cover a show while waiting in line. See, I could hear the band, I just couldn't see them and I'm hoping this line moves quickly because I knew that since they were the opener for the opening band, their set would be short.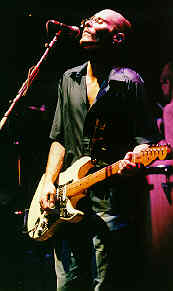 Morgan Dawley

7:15, I'm in the doors to The Riviera, scrambling to get some photos, and listening to some pretty cool music. I had heard their CD before, simply called "The Gufs," so the songs sounded familiar, but I like a live show - I think it shows the trueness of a band. The Gufs were pretty true.

On stage there were five dudes, your basic four band dudes with an added percussion guy. The music, well, hmm, hey, check out my CD review of their CD, it's basically what they played (they did only have 30 minutes to spotlight themselves). But, I will tell you this, and I guess it's just kinda simple, the band plays kinda guitar-driven pop/rock. Alright, that's a pretty wide generalization, but they remind me a little like Deep Blue Something, you know, the "Breakfast at Tiffany's" band, but with an edge.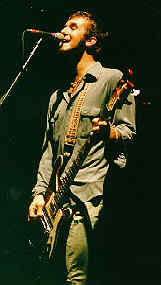 Dejan Kralj

As for the show, they already had a pretty decent legion of fans that they have picked up through the years (they're a midwest band centered around Wisconsin and Indiana). I think it helped them be a little bit more personable with the crowd since the early arrivers seemed to be there more to see The Gufs than the other acts. While playing, the boys held themselves well, not being glued to their mike stands, and they put out a fun feeling as they blasted through their thirty minutes (at least for the 15 minutes I saw, but the first 15 minutes sounded like they were holding their own). And you know, as I think about it, I liked these guys better live than I liked their CD, I thought the sound was mixed better, but I won't get into the CD mixing here.
Goran again!

All in all I don't really know what to say except The Gufs are a pretty cool live band. Nothing really flashy, but they've got some catchy songs and aren't your "we'll just stand here and play" band.

The set was short so it would have taken me being blown away to give them a great rating. I liked them, the crowd seemed to like them, but I wasn't blown away. It's ONE THUMB UP for The Gufs this time around. I will give these guys a lot of credit for sticking with a band gig through college and making their way towards the big-time. That's not easy, and as much Goran Kralj (he's the lead singer and songwriter dude) seems to comment that being only 26 hasn't left him with many inspirations, like him, "having grown up in a normal family, going to college and doing the normal things that go along with that" (that's his quote, not mine), if his normal family and college life was anything close to mine, there's probably a lot more inspirations than he realizes.

Well, that's it for this one, I'm The Dude on the Right!! L8R!!