Sometimes there are so many things flowing through my brain about a concert experience that I really don't know where to begin, and such is the case of this review: Neil Diamond in Milwaukee. So, I guess I'll just start at the beginning, which might make this review more of a story, but if you don't want to read the potentially boring stuff, use the links above to jump to the review part entitled "It's Showtime." Like all good stories, let's start it:

Once Upon a Time…
Once upon a time I read that Neil Diamond had a new CD set coming out. It was early October, and upon reading so I wondered if Neil might be touring also. I hadn't seen him in about two years, and really missed the likes of his entertainment. So I did some checking, and low and behold he was touring, but didn't have any dates listed for Chicago. Bummer. But, hey, he's playing in Milwaukee, and if this show is anything like the last time I saw him, it will be way worth the couple of hour drive to Packer-land. But I hated thinking about going solo, so I dropped an e-mail to Big Cooter - "Hey, Cooter, if you have no plans for Halloween, and I can get clearance, do you want to head to Milwaukee to see Neil Diamond? Let me know ASAP. DOTR." A reply came back "Sure, Dude, let me know the plan. Cooter."

Some calls were placed because I really wanted photo clearance this time, but I was slightly nervous because my crayon drawing from the last review had gotten such notoriety that I feared being shut out of photo clearance in the hope of another drawing.

But, alas, the fax machine rang and a smile came to my face, but then the smile faded a little as I read "Please bring a long lens." I have a long lens, but thought it might not be long enough, although I haven't gotten any complaints about its performance so far. Even though, I knew it would be an interesting photo shoot. But, I didn't care, I was going to see Neil Diamond!!!! Wooo Hooooo!!!!!

Sometimes it's better not to tell mom…
It's the morning of the show, and like all Saturday mornings I'm waiting for my weekly call from mom. Yea, yea, I can hear all of you moms out there thinking something like "Why don't you call her? Wouldn't that make her feel better?" Well, it might, but she would just say something like "Hang up and I'll call you back." Mom, I guess, just seems to get more satisfaction by calling me, so I let her. But, in any case, the phone rings and the conversation is our normal "How are you feeling?", "How's dad?", "You're sister is alright - she's working full time now," things like that. Then I tell her that I'm going to Milwaukee tonight, she asks why, and I tell her with enthusiasm "To see Neil Diamond!" Sometimes I shouldn't say anything. "How come you will travel five hours here to see that Korn band, who I would never want to see, but for someone who I would enjoy and you could take your mother, you don't come home." Oh boy, I was in trouble, but luckily I had an out. "I would love to mom, but he's not playing in Cleveland either, so my only chance to see him is to go to Milwaukee." Whew, peace was made and I was really glad that Neil didn't have a stop in Cleveland yet.

So, I fuel up the dude-mobile, print out some maps of how to get to the Milwaukee Arena (the internet is such a cool things sometimes), and cruise to pick-up Big Cooter. Big Cooter plays navigator, and as we're cruising northbound I realize that we could have really made this an all-day article with some pre-planning, to hit some tourist stops on the way to Milwaukee, but I didn't think of it quick enough so it was just to the show we go.

Is It Showtime Yet?
We park the dude-mobile, I meet up with the nice dude escorting photographers, and take our seats. Unlike the last time where we were in the section where everybody knows your name, this time Big Cooter and I are around people who don't. Pre-concert banter takes place with a few of those around us. The lady in front of us inquires how much her seats would have cost if they weren't complimentary (Big Cooter found this very tacky), the lady next to Big Cooter found him too young to like Neil Diamond (Big Cooter found this a little presumptuous), and a dude near us joked to me "You'd better hide that," referring to my camera gear, at least I think that's what he meant because I don't believe anything else was being exposed, as the announcement was made that taking pictures was prohibited. I smiled as my photo pass hung around my neck.

The people started trickling to their seats, some people got into the Halloween spirit wearing colorful hair, and a group of dudes took their front row seats, dressed with the seeming intention of trying to looking like Neil Diamond, but they looked more like Elvis impersonators. Big Cooter thought it looked more like a fraternity prank rather than die-hard Neil fans, but I'll give them the benefit of the doubt because they seemed to have a great time during the show.

The stage set-up was nearly identical to the last time I saw Neil - his way-cool revolving stage. This time, though, it was lacking the "mosquito" netting for the laser show he had last time - so much for re-posting the crayon drawing of the show a couple of years ago.

The final announcement was made that the show was about to begin and the lights would go down quickly. They did, and...

It's Showtime
The boys and girl of the band make their way through the tunnel, take their respective places in the "band pit" of the revolving stage, and then comes Neil. In black pants and a sparkly shirt, there is this energy that he transmits to the crowd that stirs up just about everyone (I say just about everyone because there were these stiffs in the front row stage left, well, I guess maybe not stage left because the stage was in a circle, but anyway, in the front row, that just sat there most of the time, not clapping, not standing, not singing along, and I wondered why there were even at the show, but I'm sorry, I digress). Neil grabs his microphone from the middle of the stage and begins to do what Neil does best - sing his heart out to everyone in the crowd.

Sounding as good as ever this night, Neil Diamond put on a two hour show that could please just about any fan.

He played older songs, you know them, "Shiloh," "Longfellow Serenade," "Forever in Blue Jeans," "Song Sung Blue," "Cracklin' Rosie," and, well, the proverbial hit-fest of songs that span his career. They sounded great, the crowd sang their asses off with him, and it is usually these songs that people come to hear so Neil did his best to please.

He played new, old songs, you might know them from the movies, he plays them from his new CD set "The Movie Album: As Time Goes By." Songs like "As Time Goes By," and "Unchained Melody" sounded great, and as he sort of put it, what would a collection of movie songs be without some Sinatra or Elvis, so he also added "I've Got You Under My Skin" and "Can't Help Falling In Love." Big Cooter tells me later that he thought Neil did great on the Elvis, but the Sinatra just didn't cut it. I kind of put it this way - only Sinatra sounds like Sinatra. Neil's version sounded, well, like Neil Diamond singing a Sinatra song. I did make a note that I liked him singing classics as he did, but I was also musically impressed with what sounded like one of the best synthesized or sampled string backgrounds of a full orchestra. The violin player in me liked that.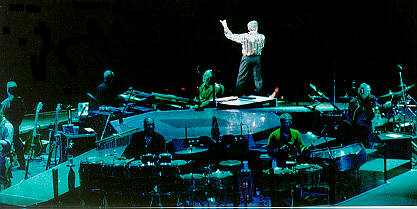 So it was a night of Neil Diamond classics, and a night of movie classics, and a night where I just reaffirmed my thought that Neil Diamond is so cool - He gets to get on stage and sing Neil Diamond songs, gets all kinds of applause following his duet with Linda Press, "You Don't Bring Me Flowers," and gets to follow that up with a "This is a tough job I've got, isn't it?" as he goes into "I Am, I Said." All the while he uses the "in-the-round" set up to the best I've seem anyone. Of those that get on stage and sing, few take that to the level of performance. Neil Diamond is still one of them.

My Mind Works in Weird Ways
Like I wrote earlier, I get so many things out of a Neil Diamond concert besides just a way-cool show. Sometimes I think my mind might just explode if I don't let it out, so with Neil's putting on a great show, other things come to mind.

Weird Thing Number One: This one hit me when Neil said "This is a tough job I've got, isn't it?" Maybe by fate, but the revolving stage had Tom Hensley in front of me, sitting in front of his keyboards. Onto my notes came this - Neil may have a "tough" job, but Tom, there, seems to have a much cooler job - He gets a comfy-looking seat for two hours, playing keyboards in Neil Diamond's band, jamming to some cool Neil Diamond tunes on his headphones. Tom, and hell, the rest of the band, just look they are perpetually having a good time, and that just helps add so much to a show, especially for an "in the round" stage set-up as this, because when Neil's facing the other way, it's great to have something else to look at other than his butt (well, at least for me anyway). End of weird thing number one.

Weird Thing Number Two: The last time I saw Neil Diamond I was corrected as to the purpose of the red, rectangular thingies above the stage. I was told that they are used for the followspots that, well, follow Neil Diamond as he cruises around the round stage. This time, I couldn't help but pay attention to those followspots, how yes, they would follow him around the stage, but more weirdly, how when Neil would wiggle during a song, well, they would wiggle right along with him. I guess they're just doing their job, so it shouldn't surprise me, but it made me crack an extra smile once in a while during the show. End of weird thing number two.

Weird Thing Number Three: I'm sitting there listening to the way-cool band jam of "Sabre Dance" when, for some reason, I wondered how far the boys and girl of the band might travel during a concert without moving their feet. I knew I would need two things - How fast the stage turned, and the diameter of the imaginary circle that the band formed.

So, during the song I checked my watch as the stage rotated, and it seemed to take about six minutes for the stage to go around once. Alright, easy enough, until "Brother Love's Traveling Salvation Show" when I thought to myself "Self, is the stage spinning faster?" A quick check of my watch and it seemed for this song it would only take about two minutes for the stage to go around. The damn things spins at different speeds - this would throw a monkey wrench into the calculations. I also noticed that it didn't seem to spin between songs. Some massive assumptions would need to be, well, assumed for this part of the equation, so I came to this conclusion: Let's average the stage's rotation at one time every four minutes. Now, Neil's concert is about two hours long, and he doesn't tend to overextend the crowd banter between songs, so let's say there is about one hour and fifty minutes of music. That's 110 minutes of rotation time, at one rotation every four minutes, and we get 27 ½ rotations per show.

My next problem came in that I forgot my tape measure, well, that and the fact that I don't think Neil, the band, or the crowd would have appreciated it much if Big Cooter and I jumped on stage in the middle of the show to measure the diameter of the imaginary circle that the band formed. So I whispered to Big Cooter, "Hey, Cooter, how far do you think it is from one side of the band to the other? About 30 feet?" He seemed a bit perturbed, as well as perplexed as to why I would ask that, and said "Yea, about 30 feet." So, with that I had my other totally unscientific measurement - a circle with a diameter of 30 feet.

Along with forgetting my tape measure I also forgot my calculator - the calculation would have to wait until I got home. So, finally putting my aerospace engineering degree to good use, the circumference of the imaginary circle ends up to be about 94.25 feet. Well, since they get about 27 ½ rotations during a show, at 94.25 feet per rotation, the band travels about 2,592 feet during a show, or roughly half a mile without moving. Just in case you wanted to know, although it might be totally wrong. More study on weird thing number three may be needed.

Time to Go Home…
Well, Neil Diamond finished his four song, sort of encore (sort of because he never really left the stage, just kind of teased it), wrapping things up with "I've Been This Way Before," and it was time to head back to the dude-mobile for the drive back to The Windy City. A wrong turn here and all of a sudden we're on the expressway heading north. "Cooter, Cooter, navigate dammit! I want to go home!" "Hey, Dude, exit over to the left." So, a four lane crossover, down an exit ramp, and we're back where we started, at the Milwaukee Arena, but this time take the right turn, and we're burning rubber towards the border. I pass a Wisconsin State Patrol dude on my right doing about 72 in a 65, but lucky for me a slick mini-van passes me doing about 78 to my left. I slow down, the mini-van doesn't, and Officer Friendly makes chase for the mini-van. Whew!!

All in all, a most excellent evening. I got to see Neil Diamond again, which was most excellent enough, but I also had my mind filled with all kinds of weird things, and didn't get a speeding ticket. Sometimes I like weird things! With that Neil Diamond gets TWO "FOLLOWSPOTS FOLLOW HIS WIGGLE" THUMBS UP!!

That's it for this one, kinda sorry it was so long, but it had to be said! I'm The Dude on the Right!!! L8R!!