Related links at Entertainment Ave!
None.
Other Links:
None.
Cool For August
A Concert Review
A Review In Four Parts
Part I: A Band I May Never See Again
Part II: I'm Gonna Miss the Band Again
Part III: We're In – The Bad Karma is Gone

Part IV: "Big Cooter" Now Equals "Bad Karma"
Part I: A Band I May Never See Again
Cool for August almost made it to my list of "bands I will never try to go see again." The first time I saw them, they were opening up for matchbox 20, and really didn't impress me at all. Maybe it was that the sound quality wasn't all that great, I didn't know any of their songs, and the band really didn't do anything to connect with the crowd. I also had their CD, "Grand World," but quite honestly, I never gave it a good listen, just a couple of times as background music while I was occupied doing other things. Honestly, I kind of wrote the band off as never seeing or hearing from them again.
Then, back in October, I found out they were coming back to Chicago to play a show at the Hard Rock. It was free, what could it hurt – I'd give them another chance – and then "Wham!" – I found myself in the hospital with a blown-up gallbladder (alright, maybe not blown-up, but I did need to have it yanked out). So, now "Cool for August" was instantly linked with "bad things happening to me," and it was with hesitation that I decided to cover their show this time around, oddly enough, opening up for matchbox 20 again. In the meantime, I gave their CD a real listen to, and you know what, I found myself really liking it, and listening to it over and over. This time going into the concert I would at least know the songs!
Part II: I'm Gonna Miss the Band Again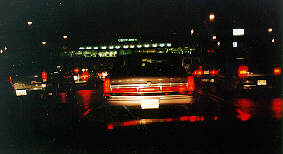 Too many brake lights!

But then the trip to The Aragon Ballroom came. I jump in the dude-mobile and headed north to pick up Big Cooter. He wanted to tag along to catch the matchbox boys, but I had a sneaking suspicion he might just like Cool for August too. Well, we're heading into The Windy City, I gave ourselves plenty of time to get to the show, and then "Wham!" No, I didn't run into anyone, but someone way far ahead of us did, and Big Cooter and I found ourselves stuck in a major traffic jam. "Great, I'm gonna miss Cool for August again!" Bad karma was beginning to be written all over this band. Finally, the brake lights cleared, we were sailing smoothly down the road, and I just kept looking at my watch. It was going to be close.

Arriving in the vicinity of the Ballroom, the next problem came – the parking lots were full. Now, for those of you who don't live in Chicago, let's just say that The Aragon Ballroom isn't in the best of neighborhoods, and parking such a cool ride as the dude-mobile on the street leads to the dude-mobile to be missing when I get out of the concert. But, chances needed to be taken. I parked, Big Cooter and I jumped out of the car, and hoofed it to the doors. I pushed my way in, and in the end, the bad karma turned into great karma because our timing was perfect – Cool for August had just taken the stage.

Part III: We're In – The Bad Karma is Gone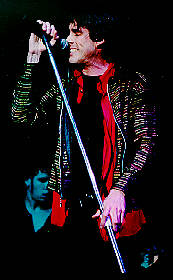 Gordon Vaughn

Remember how I mentioned that the last time I saw Cool for August they did nothing to impress me. Well, this time was different - way different, and my attitude about them has changed dramatically. Here was a band, on stage in front of thousands of people not there to see them, with a CD that has gotten little to no airplay in Chicago, and from maybe 30 seconds into their set, they began to wrap the crowd around their fingers. Led by Gordon Vaughn on vocals, the band, with Trevor Kustiak on guitar, Andrew Shives on bass, and Shane Hills on drums, became totally animated with the music, and with the crowd, and crammed as much music as possible into their 45 minute set, with some special surprises.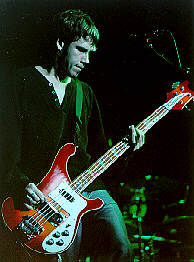 Andrew Shives

With their, well, I call it guitar-driven rock sound, Cool for August did the best job I've seen any opening band do in front of a crowd since, well, matchbox 20. From "Don't Wanna Be Here" to "Walk Away" (which happens to be their new single, and my second favorite song on the CD, next to the hidden track 14 minutes into "new song"), the guitars were wailing while Gordon would spread his arms and try to embrace the thousands that seemed to all of a sudden like them. And the band played on.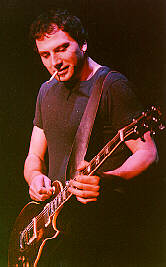 Trevor Kustiak

Now, as much as Cool for August seemed to have no problem getting the crowd wrapped into their lyrics and head-bobbing guitar licks, it doesn't hurt to have the headlining band be friends and support you also. So, low and behold, four songs into the set, out comes Rob Thomas from matchbox 20 to lend a little help with the touching "Trials." Let's just say everyone in the crowd was happy they arrived early. But, that wasn't the only surprise of the evening. Nope, the band also did a very cool cover of the Tracy Chapman hit "Fast Car." Now even the people who didn't know anything by the band could sing along.

Well, I am happy to say that the bad karma that I used to associate with Cool for August is now gone, and another band ranks up there on the list of "must see" when they come through Chicago. They played every song I was hoping for, even the mystery song at the end of the CD, complete with violin, and I was glad that I had given the band another chance. I just wish I could have given them that chance a few months earlier - what good is a gallbladder anyway if they can just yank it out? Oh well, I guess good things come to those who wait, like waiting ten minutes after "new song" for the mystery track on Cool for August's "Grand World."

Part IV: "Big Cooter" Now Equals "Bad Karma"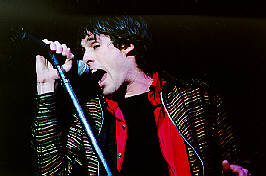 Gordon

So, the night was wrapping up, and I had a great time. I had a new-found appreciation for Cool for August, and matchbox 20 put on a great set too. I was still a little worried about the dude-mobile being in the same spot we left it, but, that remained to be seen. I finally found Big Cooter and we ran into an old college buddy. He's on his was to find the bathroom, but oddly asks if people are allowed upstairs in the balcony. I explain to him that some sections are for VIP's, the rest for everyone else. He seems surprised that I know this, but then bolts for a john. I didn't get to explain that I knew it because I've tried to sneak in the VIP section many times, with no luck.

Then, suddenly, this, well, good-looking brunette next to me slaps a VIP pass on my shirt. I'm like "Wow, thanks!" Finally I'll be hangin' with the important people! I'm like "Hey, Big Cooter, check this out! Come on, let's go, upstairs!" He's like "Where'd you get that from?" "This good looking brunette. She said 'Have a good time. I hope to see you up there.' Come on, Let's go!" "Dude, man, I'm beat," Big Cooter says, "I got up early today, and have to be at work early tomorrow. Can't we just head back?" "But, Cooter, it's the VIP section! That's us, now, VIP's!" And Big Cooter just gave me that sad, puppy dog look. I knew that my chance to be a VIP, and maybe find the love of my life, this night, were now over. We headed for the dude-mobile. So much for me bringing Big Cooter to a concert again!

Well, in any case, even with Big Cooter now being the bearer of bad karma, Cool for August put on one hell of a show. It's TWO BIG THUMBS UP from me, and I really do look forward to seeing them again.

That's it for this one, I'm The Dude on the Right!! L8R!!

Oh, yea, in case you were wondering, the dude-mobile was just where we left it, and Big Cooter is now a big fan of Cool for August. L8R!!