Bon Jovi
A Concert Review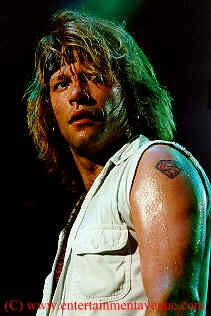 Since my photo pass got messed up, here's a photo of Jon Bon Jovi from five years ago. He basically looks the same but with shorter hair. DOTR

I had a lot of opening lines already planned for this Bon Jovi review. One went something like "Itís been almost five years since Bon Jovi played in Chicago. Want to know how I know that? Because I graduated in 1985, blew off my ten year reunion to see Jovi in í95, and since itís now the year 2000, well, that makes it five years." Another was simply "Bon Jovi rocks.", but I already used that one in í95. Yet another was, "It was good to see they were able to put Jonís head back on after he got it blown off on a submarine." But from a question posed to me before the show and after I read a couple of other reviews after the show, letís start it this way:

"Do you still want to see Bon Jovi?" I was asked that question by the person I was getting tickets from, and I found the question odd. I thought to myself "Hell yea I still want to see Bon Jovi. A chance to see the boys from Jersey in a smaller venue like the House of Blues Ė what kind of question is that?" But, I politely said "Yes" and it was off to Bon Jovi I go. The question stuck in my head, at least until I read a couple of reviews by people who seemingly didnít want to go but had to because it was their job and proceeded to wail on the band as Ď80s has-beens. I wondered if they ever liked Bon Jovi, or rock bands in general, and also wondered if they were asked the same question and what their reply was. If they said they wanted to see Bon Jovi, from what I read, Iím guessing they lied.

In any case I was excited, but sadly The Dude on the Left and I got there a little later than planned so we couldnít get a cool spot on the main floor. This is an important thing when seeing a show at the House of Blues in Chicago as will be explained later. But, we do get some good railing spots towards the back, grab a couple of drinks, and wait through a nice set by Shelby Lynne in anticipation of the main event. A screen comes down, the lights go low, a quick little slide show takes place, and to familiar high-pitched screams and Richie Sambora kicking up the talk box for "Liviní On a Prayer", here came an hour and a half show of sing-a-longs, new stuff, and just plain rock and roll.

With the show only being an hour and a half, the boys of Bon Jovi had a lot to accomplish in a short amount of time. This show, as well as a couple of other club dates theyíre doing, are sort of warm-up shows, preparing for the release of their new CD, "Crush," as well as a major tour coming in the summer. With that it was intermingling time Ė hit song here, new song there, hit song here, new song there, toss in a couple of covers, send the crowd home wanting more but having to wait for their next time in town, and this was the show. Hit songs, you know the names, "You Give Love a Bad Name," "Lay Your Hands on Me," "Iíll Sleep When Iím Dead," and the like. New songs, you donít know the names (hell, Iím not totally sure of the names), but you get the likes of "Itís My Life" (the first single), "Thank You For Loving Me" (with a great Richie solo at the end), "Next 100 Years" (with a way excellent breakdown at the end), and "Just Older" (my favorite new song so far) to maybe name a few. Covers, usually intertwined into a "Bad Medicine" or "SleepÖ" included "Papa Was a Rolling Stone," "Jumpiní Jack Flash", and "Shout," as well as a fun duet of "Me and Bobby McGee" with Shelby Lynne helping out. Basically just a balls out rock and roll show preaching that being in a band can still be so much damn fun, as evident by Jon running all over the stage while grinning ear to ear, wiggling a hip to get the screams, doing a quick crowd-surfing maneuver, and rock-posing with Richie like a couple of high-schoolers still trying to pick up the chicks.

Jon did some introducing for most of the new songs, although these introductions were drowned out because, like I said before, we werenít in a cool spot on the main floor, but back by the bar area where the Chatty Cathyís proceeded to gab back and forth during the stories and during the new songs. I so much wanted to turn around and yell "Would you shut the fuck up!", but I guess I have myself to blame for not getting there early enough. Oh well.

Anyway, as the show was rapping up, following a sing-a-long with Jon sort of doing harmonies while the crowd was singing lead for "Wanted Dead or Alive", and preaching an "Iím getting too old for this" after "Shout," but heading back on stage leading the band back into "Bad Medicine," I sort of wondered if "Iíll Sleep When Iím Dead" is an appropriate song for Bon Jovi to play anymore. Me, I used to have that attitude, but Iíve learned lately that sleep is a priceless treasure that shouldnít be wasted. Jon's comment hinted at that, but he came back blazin' to send the people home. Maybe I just need to be in a band?

In any case, although the show was a little short at an hour and half, Bon Jovi rocks. Screw those other reviewers, let them go back to waiting for grunge to make a come back. Not that I donít like the new stuff, but give me a band that knows how to just play some kick-ass rock and roll and Iíll be a happy man. Bon Jovi did that, and Iím a happy man. At least today.

Letís wrap this up. Iím looking forward to the new CD, looking forward to seeing Bon Jovi again, even at a larger venue, and hoping that next time my photo pass doesnít get messed up so I donít have to recycle an old picture. Itís TWO "JUST PLAIN OL', KICK-ASS, ROCK ĎN ROLL" THUMBS UP for Bon Jovi!!

Thatís it for this one! Iím The Dude on the Right!! L8R!!!