Loading ...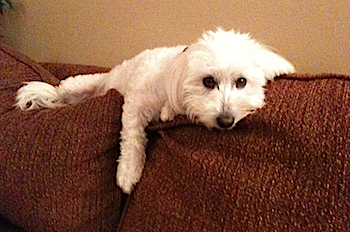 Our dog, Milo, recently had a birthday, and some of his friends on Facebook wished him a "Happy Birthday." Yes, that's right, he has a Facebook page. He thanked those who wished him the best for another year, with his traditional "Woof!" at the end, and as he is now older than I am, clocking in at a 49 years, he wonders if he should maybe shut down the page. Okay, he's not wondering that, right now he's probably just wondering when I'm going to give him his breakfast while I'm typing this, but his introduction into Facebook wasn't out of my being a "trying to treat our dog like a human" thing, he ended up with a page simply because I was in full Farmville mode and needed more "neighbors." His having a page helped many a time, through the proliferation of "…ville" games, and even into the Candy Crush era, but it was kind of funny, as his posts would show up on my wall as "Liking" the latest game, that my friends would undoubtedly become "friends" with Milo.
He doesn't give as many updates as he used to, mostly because you can't have two Facebook apps on your phone and it's too much of a pain to log out and back in on the app, so when we are out and "he" wants to let his friends know where he is checking in at, it's up to me to quit being lazy and do the extra steps.
Maybe once I get hooked into the next game he'll be a little more active, but for now his page sits kind of quietly, like many a Facebook page, where people wish their friends, who probably don't even pay attention to Facebook any longer, Happy Birthday, and never even notice their "friend" didn't thank anyone. I do wonder, though: Does your pet have a Facebook page?
That's it for this one! I"m Andy!! L8R!!!