Loading ...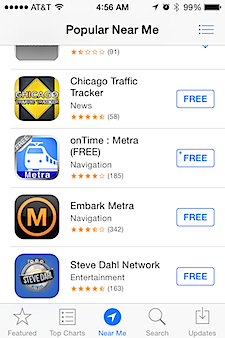 Maybe I need to get out more, or maybe I need to go to some more exciting places, but the other day I started to become fascinated with the "Near Me" feature on the App Store app on my iPhone. Supposedly it shows what some of the most popular apps are around you that people are downloading, and for them most part the people around me are really concerned about the news or how to get from here to there, although it also seems like my neighborhood has a lot of radio legend,
Steve Dahl
, fans, as his app is displayed prominently among the choices.
I've tried it a couple of times at places I've been, and usually it's been a similar result – local news apps, travel times, train schedules, but oddly enough, never seeming to be anything fun. I think I might need to head to some fun parts of the area and see what comes up, but for now I wonder: Have you used the "Near Me" feature on the iPhone App Store app, and what the heck, I'm curious of any wacky ones that might show up near you.
That's it for this one! I'm Andy!! L8R!!!