It wasn't but a few weeks ago that Jimmy Kimmel made news by it being discovered he was the perpetrator of the "Twerking FAIL" video where a girl catches on fire in her room when she is twerking against her door. Then, the other day, Jimmy Kimmel hits the news again for a "Twitter War" with Kanye West, started seemingly when Kanye was upset with Jimmy's spoofing of an interview Kanye had with the BBC. In his spoof Jimmy used little kids in the places of Kanye and the interview dude, complete with milkshakes. Suddenly Kanye tweets his displeasure with him and how Sarah Silverman is funnier than Jimmy, much to the pleasure of Kimmel who was now able to use this for more witty banter on his show.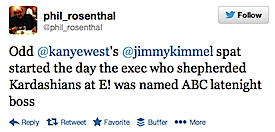 Lost in the Twitter war is a tweet by Phil Rosenthal of the Chicago Tribune pointing out that there was a new, latenight boss at ABC, who just so happened to be the same guy who "shepherded the Kardashians at E!," and in case you've been living under a rock, Kanye West happens to be involved with one of those Kardashian girls. In case you don't know his writing, Phil Rosenthal is now doing business reporting for the Tribune, but those of us in Chicago remember him also as the head TV critic dude when he was over at the Sun Times (I do miss his TV analysis), and still seems to know quite a bit about the TV industry, so when Phil throws out a hint of "Hmmm? This seems oddly coincidental?" tweet, I'm pretty much on board with Phil.
The more I analyzed the Kanye tweets, and Kimmel's response, the more I'm trusting Phil as it appears another likely Jimmy Kimmel  media manipulation seems to be at play.
I'm with Phil calling this a bogus "Twitter War," although it's still kind of funny, but with that I plight: Do you think the Jimmy Kimmel / Kanye West twitter fight was fake?
That's it for this plight! I'm The Dude on the Right!! L8R!!!