Artist: Jason Aldean
Listenability Scale: 93%
Released by: Brokem Bow Records
A Review by:
– Andy Labis
Well shit. I admit I pretty much dismissed caring about Jason Aldean and his new album, "Old Boots, New Dirt" after hearing the first single, "Burnin' it Down." Although a little catchy, I really didn't care for it. It was nice and all, had some dirty, thought-provoking lyrics like "We're just hangin around… Laying right here, naked in my bed.", but I guess any thoughts of being a big-shot music mogul who can pick singles should just run out of my head because I would find myself changing stations whenever the fastest selling country single in 2014 would come on the radio.
Lucky for me I was given the chance to hear the rest of the album, and although I'll let you know my favorites by the end of this review, I won't count on any of my choices being the next hit single, though the album has potential for a ton of them.
"Just Gettin' Started" kicks off the album, upbeat, and the stage is set that Jason's on a trip of having a great time, mixing a bad-boy image with a touch of the sensitive side, and "Show You Off" continues the country-rockin' attitude of "Hey, I've got this hot girl. Look at me."
There's a lot of up-beatness on the album, continuing on with songs like "Sweet Little Somethin'" and "I Took It With Me," as well as "Tonight Looks Good On You," but me, I was really liking a lot of the more thought-provoking, slower, reflective songs.
Songs like "Tryin' To Love Me" and the line "I pushed, you pulled. Should've just fell into you…" bring instant thoughts of the jackass guy who doesn't know how lucky he is with the good woman, and "Don't Change Gone" is a wonderful, reflective look at a love, gone.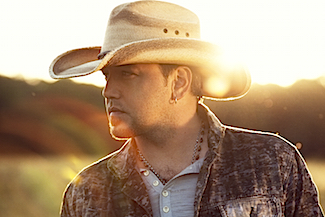 My favorites on the album, you know, those songs I can listen to over and over again, contain the trio of the title track, "Old Boots, New Dirt" that is another reflective-style song of trying to move on, "If My Truck Could Talk" which is just a fun look at something in your life that knows more about you than you do as well as knows every story of your life (I really love the lines "Anything to shut it up." and "I'd have to find a river bank and roll it off, if my truck could talk."), as well as the previously mentioned "Tryin' to Love Me."
Jason Aldean seems to like to portray the bad-boy image a lot, but "Old Boots, New Dirt" shows he's quite the sensitive kind of guy, who also happens to like some cold Jack Daniels. My not really caring for "Burnin' it Down" aside, I have to say that listening to "Old Boots, New Dirt" reminded me not to dismiss an album because of one song that's not to my taste because I'm not fast-forwarding through anything else on the album. It's 93% on the Entertainment Ave! Listenability Scale from me for "Old Boots, New Dirt." If you, like me, aren't a fan of his fastest selling single of 2014, I encourage you to give the rest of the album a try. You'll probably like it.
That's it for this one! L8R!!!