Pinocchio
Movie Stats & Links

Starring:
Pinocchio, Gepetto, JiminyCricket, The Blue Fairy
MPAA Rated:
G
Released By:
Walt Disney Studios Home Entertainment
Web Site:
Disney Studios
Kiddie Movie:
Of course
Date Movie:
If she is into Disney then sure!
Gratuitous Sex:
Umm, no.
Gratuitous Violence:
Nope.
Action:
Nah.
Laughs:
Cute Disney Chuckles.
Memorable Scene:
The whole movie is memorable.
Memorable Quote:
"What does hethink I look like, a jackass?"

Cool Things About the DVD

Learn French!
It's only got English subtitles, but does have French and Spanish language tracks.
Buy a New TV!
It does look better in Blu-ray, but I hate those side bars.
Buy a New Stereo!
The sound is great in surround.
Anything Else!
The DVD extras are probably fun for the kids, with some extras songs, deleted scenes, and puzzles, but the Blu-ray, BD-Live stuff is probably better for the tween movies.
Pinocchio
A Movie/DVD Review

DVD Rated - PG

It's 1:15 Long

A Review by
The W.G.N.
I have to admit I was rather skeptical about the change over of Disney movies over to Blu-ray. I just don't know if I can see the benefit of high definition transferring over when it is a cartoon that is decades old. Sadly, my fears were more or less confirmed with the release of "Pinocchio" on Blu-ray. I will get to those issues in a moment, but first comes the story.

The timeless story of "Pinocchio" starts with the lonely craftsman, Gepetto, and his two pets. After making a wooden marionette and going to bed, he wishes upon a star for his little toy to come to life. A fairy then comes and brings little Pinocchio to life. As long as he proves his morals, the fairy will then come back and turn him into a real boy. The story progresses as Pinocchio and his conscience, Jiminy Cricket, run into numerous villains including Honest John, Stromboli, and The Coachman. Pinocchio goes on quite an adventure as he learns many things about what is right and wrong as he attempts to become a real boy.

No matter how many times I watch the movie it always makes me smile. It is one of those stories that children have watched for generations, and it will continue to be passed along for years to come, however, the move over to HD television poses a problem. With the Blu-ray release, I was expecting the usually Disney magic to come through with a stunning re-mastering of the original artwork. For the most part they did do a great job as the animations look better then they ever have, but the problem I have is the black bars that show up on the left and right sides of the film on my HD television. I know it is not possible to reformat the film from the original aspect ratio, but it seems to me that it kind of defeats the purpose of the Blu-ray because the good-old DVD on a basic TV does just as good of job of showing off the film at a much cheaper price. Don't get me wrong, the film looks absolutely fantastic, but for me it is more of just a personal issue that I have with black bars, and one I have no idea how they could really fix.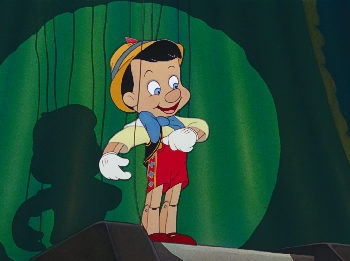 If you are a collector, or you love the behind the scenes footage of movies, there are many special features about how "Pinocchio" was made. It even includes an alternate ending, although it is in story-board format (Hey, why not for the Blu-ray put some animators to work and maybe put a hi-def and widescreen feel to the alternate ending?). There is also a very interesting picture in picture commentary of the movie that is a joy for anyone interested in the film. As for the Disney BD-Live feature on the Blu-ray, it is a cool feature if you have the enabled player, allowing you to send themed emails, chat with remote friends in real time who are also watching the movie, and a couple of other features, but I'm wondering how many six-year-olds are really into chatting and mailing, and not just into watching the movie over and over again. I'm thinking the extra features on the DVD (things like some deleted scenes, deleted songs, and a puzzle game) are good enough for the kiddies, and that the Disney BD Live stuff is probably better suited for the tween movies that Disney puts out.
Overall it is difficult to rate a move that is over sixty years old, but seeing as Disney does an amazing job of stuffing the package with tons of extra features, I say the Blu-ray is well worth it if you collect Disney films. If you aren't so much into it, the DVD version will probably be more than enough for the age group associated with "Pinocchio."
It's 4 Stars out of 5 from me.
That said it is a great story and I know everyone will fall in love with it all over again.