Rated: Not Rated | Running Time: 87 Minutes
From: Dark Sky Films
In Theaters, VOD, and Digital Platforms:  October 21, 2022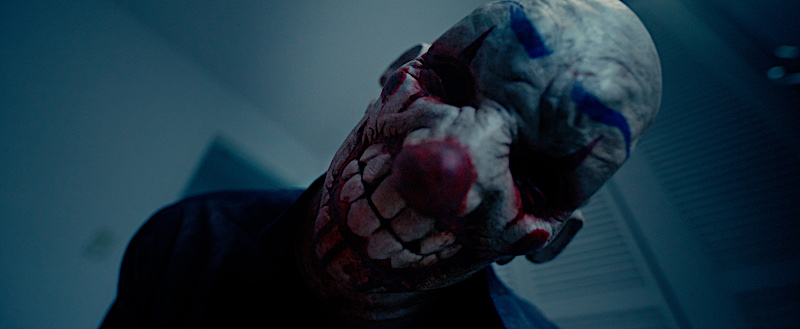 Do you want nine horror movies that get right to the point? Yup, no, long, drawn-out plot development, no "the girl will spend five minutes trying to find someplace to hide," no yelling at your screen, "Get to the killing already!"
What if they were tied together into one, neat, 90 minute package?
Here comes, "Sinphony: A Clubhouse Horror Anthology"
Let's Clubhouse Together
As the story goes, a bunch of horror film folks got together on Clubhouse, the social media place, and decided to put together nine different visions where something supernatural messes with the main character.
While each supernatural thing messing with the poor, main character is different, each little movie has one thing in common, the song "Fortress," brings them together.
It's an interesting concept that I kind of liked. No muss, no fuss, just blood and sometimes guts.
Here are some short blurbs about each of the nine parts…
Mother Love
There apparently is a serial killer in the neighborhood, and our heroine is home alone with her son. Thinking the killer is in her house, why call the police when you can get on a group call with your coven of witch friends?
Yea, no surprise, the killer is in her place, but damn, the lesson here is simply that if you are a crazed killer, well, stay away from the witches.
My favorite part of this little gem – The son jumping up and down with glee as witchy mom is wielding a knife and covered in blood.
There isn't a lot of talking in this one. It quickly gets to the stabbing and slashing! We also find that witches aren't as dedicated to each other as one might hope.
Ear Worm
Ahh, a father and son team are hired to clean out some mold. Too bad for them that personal protection guidelines weren't being followed.
Nope, sonny-boy inhales some wacky stuff and gives new meaning to the term "ear worm."
Yup, voices are in the son's head, let's throw in some hallucinating, we get some death and dying, and the world is about to have a real problem with mold.
Not too gory for this one, but it might have you wear a mask the next time you are cleaning out dead things in your basement!
Forever Young
If you are older, at first this one might make you wonder if being 30 was a good year, or if you might have wanted to stay 30 forever.
Yup, a woman turns 30 and can't stand it, she wants to be young again. The stuff of adults is making her crazy, you know, things like real estate and having kids.
So, what do you do?
Yup, you join the kids and do some social media dancing.
Sadly, this dance craze isn't for the elders as it will make you insane, or instead of 30, how about being stuck in your teens?
Not too much blood and gore, mostly flashes of weirdness, but you might realize those teen years really kind of sucked.
The Keeper
Ahh, the old innkeeper is a kind-hearted fellow. Too bad for him he was a little too kind-hearted.
When a family shows up, the innkeeper's radar pops up that there might be some family violence going on.
Yea, the dad appears to be a bad man, and mom's plan to get the family away from people doesn't go as planned.
Meanwhile, given his chance to help, the innkeeper finds out that maybe he should have kept to himself, and the real, dark secret of the family reveals itself!
Too bad, the inn seemed like a nice, secluded getaway!
Limited Edition
Ahh, recapturing a bit of the past may not always be the best idea. Yup, a woman finds something from her past that brings her joy, but sadly, there may be joy no more as a mysterious person seems to ruin the moment forever.
And, well, that took a turn I wasn't really expecting! Nice! And weird.
Can't give too much more of this one away without ruining things, but dang, this one was kind of fun!
Do Us Part?
When you see a plate hovering in the air, maybe it's time to get out of the house because it might mean that your ex is a ghost.
Okay, maybe that's not a horrible thing. She likes to hang around and will clean up after you, but if you broke up with her, and she is a possessive kind of girlfriend, her being able to hold objects in the material world, like toasters and pans, may not work out in your favor.
A nice, little story of love, and death.
Tabitha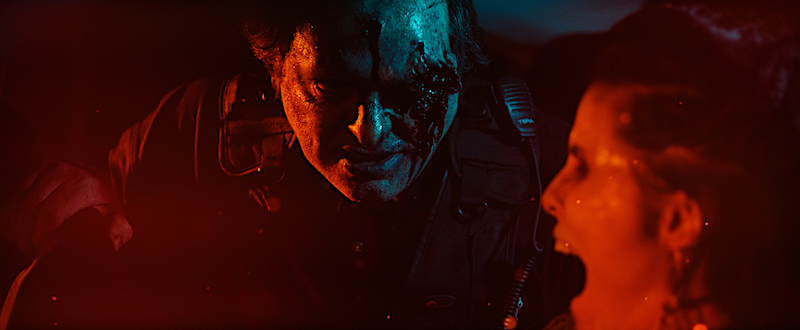 Well now, her robbery didn't go as planned, blood is starting to ooze, and she is getting woozy.
The question now is if her dying is causing her to see things, is there really something evil lurking around her, or will this be her version of hell?
Ahh, a lot of blood oozing for this one, and a woman losing her mind! Oh, and my wondering why didn't she just bite the bullet and call for an ambulance?
I loved the "So, how are you?" while she was on the phone. I guess it was a good thing she didn't tell her mom, "Heading to hell!"
Maternally Damned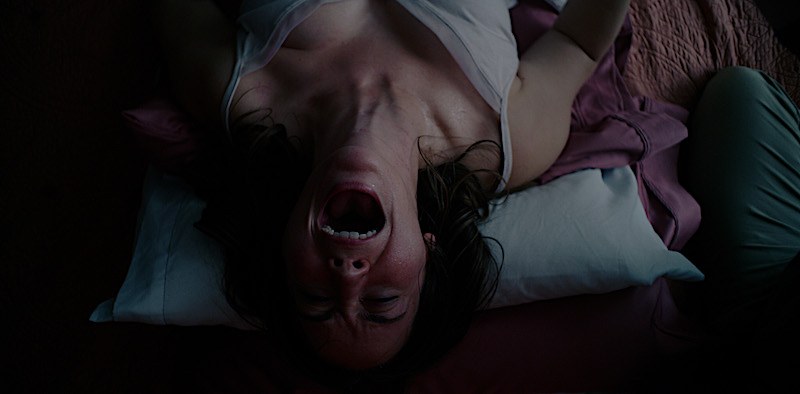 Well shit, maybe it wasn't a good thing you slept with the guy you met at the bar no matter how dreamy he was.
Why?
Because here comes the baby, and you have no idea where the daddy is, or what funky sperm he might have had.
Sadly, for our heroine, Mr. Barhopper apparently nibbled her neck, and now she is having the weirdest pregnancy ever. Yup, maybe she should have been more concerned when she seemed to be craving blood during her pregnancy.
"Something isn't right" is kind of an understatement for this one!
Symphony of Horror (opened and closed the movie)
This one opened and closed the film, maybe helping us realize that babies aren't always a good thing, in fact sometimes they might just be downright evil.
Wrapping Up
I have to say that this was a fun batch of horror. You kind of got the best of every horror genre, slasher film, suspense film, blood-spurting films, and some uber-creepiness, all rolled into one. I also appreciated not having to waste time through all that boring plot development. Nope, Sinphony and all its segments get right to the point.
It's 4 stars out of 5 for "Sinphony: A Clubhouse Horror Anthology." You shouldn't get bored, things keep flowing, and if one style of horror isn't your thing, sit tight for a bit because some vampire kid gnawing on someone's belly will be right around the corner!
That's it for this one! I'm Andy! L8R!!