Rated: PG | Running Time: 130 Minutes
From: Well Go USA Entertainment
Available on DVD, Blu-ray, and Digital Platforms:  December 20, 2016
Get it via : Amazon
| iTunes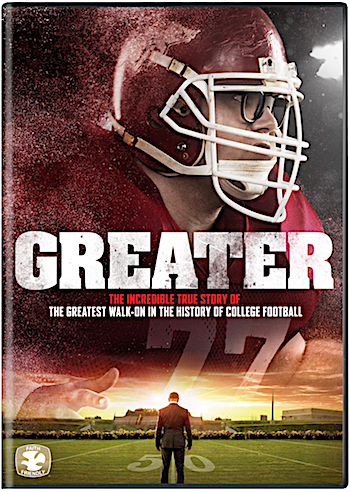 I will not lie – at the end of "Greater" i got a little weepy. The thing is it wasn't really "sad" weepy, it was more of "what a great life, even if it seemed too short" weepy.
Yes, I will come right out of the gate and let you know Brandon Burlsworth died.
It's not really a spoiler, I mean, if you do any quick Google search about him it's right out there, but I had no idea. The press release didn't mention it, the DVD case didn't mention it, but instantly, as the movie opens with a stone slab for a tombstone my first thought, followed by Google confirmation was "Crap, he dies? So much for an uplifting movie." But it is, even with his death.
"Greater" can be summed up in one sentence, uttered by Brandon as a young kid, "I'm going to play for the Arkansas Razorbacks." Opening as the town of Harrison, Arkansas, prepares for the funeral of Brandon, the movie focuses on two narratives. One narrative is the life of Brandon, his struggles and triumphs, as we see him progress from the chubby youngin' to the collegiate, All-American. The other narrative is the struggle of his brother, Marty, to come to terms with Brandon's death, and his faith and trust in God that in everything, even in a death that seems to come to soon, there is a reason.
On the Brandon life narrative, played in the movie by Chris Severio, the story is as uplifting and inspirational as they come. He was a chubby kid, mostly just sitting around, watching TV and eating junk food, but when questioned about it by Marty, his older brother, Brandon's trajectory began. He was going to play for the Arkansas Razorbacks.
His first stint at football doesn't go that well, but when mentored by the high school coach Brandon's work ethic began to become legendary, and he would do anything to achieve his dream. When his high school coach said the best people are the first to come and the last to leave, that became Brandon; When told he was too "thin" for Division 1 college football, hitting the scale in the middle 200's, and he needed to be at least 300 pounds, Brandon ate everything in sight; and when it was clearly explained to him that just being "fat" doesn't equate to a starting football player, with the help of one of his coaches Brandon transformed himself from an overweight blob to an unstoppable mass of muscle, and an All-American.
There were college hijinks, there were the "better" football players making fun of him up until the point he became better than they were, and all along was Brandon with his faith and his big-hearted nature, there for his family, and his God. His dreams were coming true, even being drafted by the Indianapolis Colts, and life was good for Brandon until a fateful drive home took his life in a car accident.
And this is where the Marty Burlsworth narrative, played in the movie by Neal McDonough, plays out.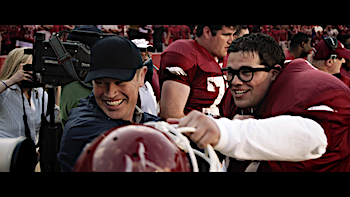 As the movie goes along we switch from the scenes in Brandon's life to scenes of Marty talking to "The Farmer" (Nick Searcy), who some may treat as the Devil, working to break Marty's faith in God, but to me he is that voice inside your head as you process tragedy. The normal grieving process can take months, even years, but the movie doesn't have the time for that so the conversations with The Farmer speed things up to a few hours as Marty goes through denial, anger, bargaining, depression, and acceptance all in the course of an afternoon. It may seem to be rushed, but for the movie it works, especially when Marty meets back up with his mother who explains that in terms of Brandon, "His life is like a drop in the ocean." Marty finally gets it, that it is time to move on, and time to help continue Brandon's legacy.
As much as this is a football movie, it isn't a football movie. Mostly it's a movie about believing in one's self and having the faith that God will get you to the dream you were destined to live. Yes, there are the Christian undertones, but there has to be as religion was important to Brandon, best summed up when the new coach of Arkansas, upon hearing Brandon talk of how he worked out when no one was paying attention, said "Character is what you are doing when no one's looking," to which Brandon replies, "There's always somebody looking, Coach."
There is that moment you may be sad for Brandon's death, and that's okay, but everyone took his life and turned it into good, with various foundations, kid's programs, camps, and recognition for athletes that conduct their lives in exemplary fashion, like Brandon did, that continue to this day.
It's 4 stars for "Greater." You will cheer for Brandon, and maybe just realize that you can achieve your dreams, too, if you give it everything you have and accept the help given along the way.
That's it for this one! L8R!!