Rated: PG | Running Time: 116 Minutes
On Digital Download August 18, 2015 |On DVD and VOD September 1, 2015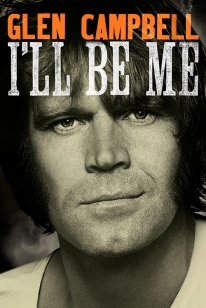 The challenge: Make a documentary about a man facing Alzheimer's disease in such a way that it ins't "Oh, woe is me!", "Feel sorry for me.", or doesn't paint things in a total, "You can have Alzheimer's and all will be well!" kind of light. "Glen Campbell… I'll Be Me" simply shows many of the challenges Alzheimer's patients, and their families, face, every day, seen in the world of Glen Campbell and his "Goodbye Tour." Yes, the subject is sad because we know the eventual outcome, but even combined with the Alzheimer's challenges, it is an awesome documentary on the musical brilliance that is Glen Campbell.
"Glen Campbell… I'll Be Me" opens with Glen and his wife, Kim, watching old, home movies, with Glen not really remembering anyone in them, not recognizing old wives, his kids, or the past. There is the visit to the clinic, the confirmation that Glen indeed has Alzheimer's disease, and the decision on what to do as he has a new album coming out, and a supporting tour. Do you cancel everything and just die? Do you not tell people and hope for the best until the tour is over? Do you make the challenge he is facing public and just roll with it the best you can? The latter is chosen.
And so we see Glen Campbell head out on tour with a band that also included family members, putting the spotlight often on Glen and his daughter, Ashley. Yes, many times, especially off the stage, Glen is just getting along, forgetting things, and the film folks don't sugar-coat a lot of the transformations that happen as Alzheimer's progresses, with Kim explaining some of the early signs of the disease, like Glen not remembering where the bathroom was in their house, and scenes further along as Glen is experiencing the frustration and anger that happens as the memory goes away.
But then there is Glen on stage.
Is it perfect? No. He uses a teleprompter, mostly follows direction on what to do, but being on stage seems to trigger life in him, because there he'll be, in front of the crowd, doing everything he can to please the fans, and buried in the recesses of his brain is phenomenal guitar playing brought out simple by some instructions on the teleprompter telling Glen to play a solo, he says "Okay," and then proceeds to shred the shit out of his guitar, including a wonderful version of "Dueling Banjos" with Ashley.
As the story of his tour continues, intermixed in the concert tour footage, are snippets of commentary by various artists including the likes of Brad Paisley, The Edge, and Keith Urban, reminiscing on the musical genius that is Glen Campbell, with Bruce Springsteen understanding it the most, I think, with "It was simple on the surface, but there was a world of emotion underneath." Then, later in the documentary, we learn there is a secondary connection many of them have with Glen and his struggle. Also intermixed, when Glen ends up in Washington D.C., we start to see some politician comments, and at first I was like "Ah, the political grandstanding. Let's bring the movie to screeching halt." Then Ashley is there, explaining to a panel of politicians the effects of Alzheimer's on her father and their lives, and I'll let the grandstanding slide, it's what politicians usually do, but if Ashley and Glen's interaction helps just a little to get more funding for research, it's worth it.
As the concert tour wraps up in Napa, California, and the evidence of the Alzheimer's is more prevalent, the statement "It's so sad that he doesn't know this is his last show.", unfortunately, sums up the disease. Then, as the film works to a conclusion with his recording of "I'm Not Gonna Miss You," I'm on the couch balling my eyes out.
As a music lover I have missed some opportunities to see, or experience, music people I love. I blew the opportunity to see Johnny Cash backstage, I did see Frank Sinatra but messed up on the opportunity to see the Rat Pack, and I missed Glen Campbell on his last tour, at the Rialto Square Theatre in Joliet, IL. I wanted to go to the show, could have gone, but came up with some excuse to skip it. Glen Campbell, his family, and his people had a perfect excuse to skip the final tour, but skipping it really didn't seem like an option because music was Glen's life, and he shows it's better to live life, no matter the challenge, instead of skip it.
The subject is a challenge, and at times watching the movie will bring emotions you might not want to feel, but it is actually Glen's humor through it all, his always wanting to laugh, that will guide you through. As he puts it best, "I have cried, and I have laughed. Laughing is a hell of a lot better." You might cry a little during the movie, but you will laugh.
And the laughing is a hell of a lot better.
It's 5 stars out of 5 for "Glen Campbell… I'll Be Me."
That's it for this one! L8R!!