MPAA Rated – PG
It's 1:49 Long
A Preview by:
– The Dude on the Right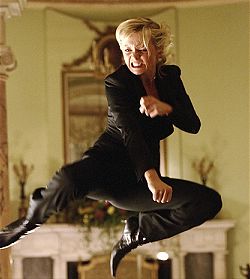 Agent Cody Banks 2:

Destination London

Movie Stats & Links

Starring:

Frankie Muniz, Hannah Spearritt, Anthony Anderson, Daniel Roebuck

MPAA Rated:

PG

Released By:

MGM

Directed By:

Kevin Allen

Produced By:

David Glasser, Andreas Klein, David Nicksay, Guy Oseary, Dylan Sellers
I didn't see the first one, although it did look fun in a kid sort of way, and this one looks to be about the same. Frankie Muniz is back as Cody Banks, kid spy. The basis for this story is that the bad guy has a mind-control device that he intends to use on all of the world leaders. Cody is brought in to get the mind-control thing before it's too late, so he's off to London, taking the identity of a student at an uppity boarding school. The out-of-place person is his new handler, Derek (Anthony Anderson), but he looks to add some fun to the movie.
Will Cody save the day? Will Derek make us laugh? Will Cody be able to have enough time to study for any tests he may need to take at school? Only watching the movie will tell, and depending on other things opening, I might try to catch this one.
That's it for this preview! I'm The Dude on the Right!! L8R!!!