By:

The Dude on the Right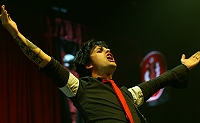 This is a quick blog entry, but in case you cared, and you probably don't in the end,
Green Day kicked ass,
although I have to admit that I did feel a little awkward in the audience, well
at least for the parents of the younger kids, when things got a little, hmm,
risqué, but that explanation will wait for the review. Anyway, sitting in
the dude-mobile after the show, I scrolled through the photos on my new camera.
I figured I did pretty well for the first time out, although I probably should
have used my shorter lens, and as much as I forgot all of my rules of going to
the Allstate Arena, and was paranoid it would take me about an hour to get out
of the parking lot because I was parked in front of a light pole, low and behold
I forgot that teens know exactly how to get out of a parking lot, one in three
will be nice enough to let you into the exit line, and
Rosemont knows how to get
those lots cleared of the troublemakers that might be Green Day fans.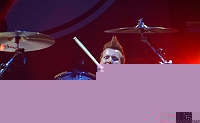 The
review will be coming in the next few days as Wimp finishes up his side and I
tighten up my comments, and I have to sort of figure out how to really handle
the photos I downloaded from my camera. I did a quick shrinking of a
couple of them for this blog entry, but there are quite a few good ones I just
need to frame a little better and maybe sharpen the color balance.
It should be a busy weekend with "Deuce
Bigalow: European Gigolo" and other movies opening this weekend,
finishing up the Green Day review, and updating a bunch of movie previews.
I was actually looking forward to
Kelly Clarkson
clearance but that doesn't look like it is going to happen as I write this.
Oh well, maybe next time.
That's it for this one! I'm The Dude on the Right!! L8R!!!