The Refreshments
A Concert Review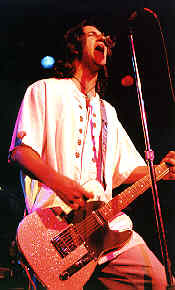 Roger

Here's my history of knowledge about The Refreshments: I heard a song called "Bandito" on the radio one day and they said it was by a band called The Refreshments. I liked it, thought it was a really cool song, and it ended there for a while. Then I was going to cover a couple of other bands and The Refreshments opened up for them. I liked "Bandito" and thought that if the band is anything like that song they should be a lot of fun. I really wanted to see their entire show, but due to these stupid parking rules on the north side of Chicago I arrived with about 15 minutes left. I was just in time to catch "Bandito," and a cool cover of "Jenny - 8675309," a couple more songs, and see the lead singer dude pull out a trombone. Such was my new impression of the band that I went to buy "Fizzy, Fuzzy, Big, & Buzzy," their latest CD on Mercury Records. I put it in my CD player and sat down to do some work, eventually stopped what I was doing, and listened to the CD. I listened to a band with a rockin' sound that threw in some Mexican style music and I thought to myself "Self, I've got to see these guys play a full show." Well, I did, even if it was a short show, when they moved from the opener of the opener of the headliner to the opener of the headliner on a recent night at The Metro in Chicago.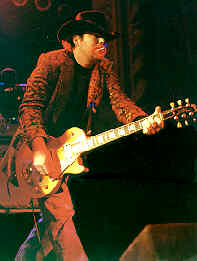 Brian

Well, "Buddy," Brian, Roger, and "P.H." hit the stage and blasted through about 35 to 40 minutes showing that this should be a band to be reckoned with as the years go by because they are just so damn much fun, the songs are catchy, and they don't go overboard with the theatrics. Now, the show opened with "Mekong" and from the opening energy my only sing of depression came from the fact that I knew the band wasn't going to be playing that long. From that opening, Roger began to work the crowd with the best of them, and the rest of the band kicked in with an energy level to bring even those people who had no idea who the hell this band was to start to have a good time. Followed by "Blue Collar Suicide" and the crowd really started to get into it, and even through the lulling of a song like "Mexico" the folks at The Metro stuck with the band.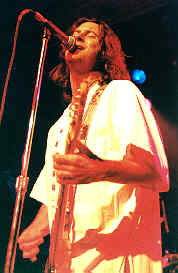 Roger again!

For most of the night The Refreshments stuck with songs off of their CD, but they kept with the tradition of a cover (well, I really don't know if it's a tradition or not, I've only seen two shows, so I guess I should just say they played a cover tune instead of throwing the entire tradition thing into it. But, I'm sorry, I digressed quite a bit there, let's get back to the review), anyway, they played a great cover of the Tom Petty classic, "Listen to Her Heart."

All I know is I can't wait to see The Refreshments get an entire show to themselves because it will be one hell of a party. The band mixes some classic rock sounds of the eighties (that is not a bad thing in this case), with some alternative feel of the nineties, with some Mexican style beats, with some classic lyric lines. It's just fun sounding music that if your body doesn't move to you must be dead. There wasn't anybody dead at this show, I was happy to see.

Well, although a short show from The Refreshments, I think they made a few new fans, kept the old fans happy, and most importantly made me want to go see them again. The Refreshments get TWO BIG OL' THUMBS UP!!! For God's sake, if you liked "Bandito" go and buy their CD and go see them live. I don't think you'll be disappointed, but if all you have is a good time, don't say I didn't warn you!

That's it for this one, I'm The Dude on the Right! L8R!!