Sometimes it's just so damn fun to see an all out rock 'n roll show. But, then again, as Sammy said, "This is not a rock concert. This is a party! Would I wear this at a rock concert?", as he was partyingly dressed with a hawaiian-esque shirt while holding a cocktail. Me, I was better dressed for a rock concert, as was most of the crowd, but as someone next to me said, "This is more like a Buffett (as in Jimmy) concert than a rock concert." I thought to myself, "Yea, but this is more for the rock 'n roll crowd than the Parrotheads." And Sammy may have found a new niche for himself - mix a straight up rock 'n roll show, add a dash of that Buffett feel, chase it down with a couple of shots of tequila, and you've got one hell of a party.

Opening the show with the "Cabo Wabo" opening and continuing through over two hours of fun, I must say I was duly impressed. See, I have never seen Sammy live, either solo or in his days of Van Halen, and didn't no what to expect, but this show was definitely not it. Sammy rocked (okay, I did expect that), Sammy shared his cocktail with the crowd (dammit, I didn't get any), Sammy made witty crowd banter (as people were milling about the theater, Sammy says "What are all these people milling around for? What is this, a mall? Hey, you two good-looking girls - get the fuck back here!"), and Sammy, somehow, turned the gargantuan feeling of The New World Music Theatre into the party atmosphere of a private show in a bar.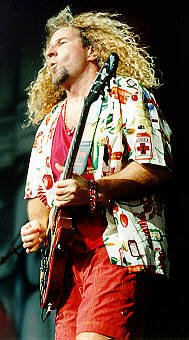 Sammy the "Red Rocker."

The stage set-up helped, especially with the "Cabo Wabo" motif, complete with about 50 fans on rafters behind him for the show, and his band, The WaboRitas, helped too by not just being a back-up band, but getting themselves into the party, and, well, other than missing out on a few shots of tequila, I enjoyed being at this party.

Song-wise I don't think Sammy Hagar disappointed anyone. Yes, he did some tunes from the Van Halen days, even explaining how some of the songs, like "Right Now," just seemed meant to be, but a lot of this show also kept to the solo material, old and new, and whether he actually deviated from the set-list or not, it's still fun to hear someone say something like "We haven't played this song in a while, but this is Jim Peterik's hometown, so…) as the band kicks into "Heavy Metal."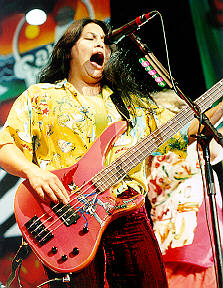 Mona.

Sammy sounded great, and, yea, call me stupid, but I totally forgot how kick-ass he is as a guitar player, especially as he donned his "Red Rocker" guitar, but the boys and girl of the band were no slouches either. Victor Johnson on guitar nailed the Eddie Van Halen licks, Jesse Harms did a great job on keyboards, David Lauser seemed to be just having a blast on drums, and there was even a bass solo by Mona (it's been a long time since I've heard a decent bass solo!) The crowd did great also, singing along to songs in all of the right places, like in "Mas Tequila," and even taking a whole verse (or maybe it was a chorus, oh well) in "I Can't Drive 55" as Sammy changed his shirt to one thrown from the audience.

And speaking of things being thrown from the audience, I'm guessing this is normal, but I have never seen this many banners and shirts thrown on stage. And what really surprised me, mostly because at other shows I've been to this doesn't happen, Sammy read them all, showed them to the crowd, and sometimes draped himself from head to toe in them. Fan appreciation at its best.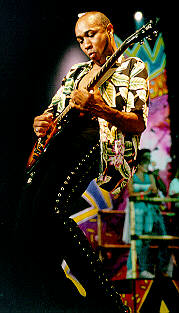 Victor Johnson

Now, the banners were fine, but I did find it kind of asshole-ish of him wearing shirts with his name on them. "How pompous!" I thought. Actually, though, I'm just kidding on that comment. During the show, as he donned one of the fan's shirts, Sammy said someone would write something similar to that, so I figured I would be that guy. But, personally, I thought that was cool of him to wear them, especially with some of the work that went into some of them. I'm sorry, I digress, back to the show…

Anyway, a cool cover of "My Generation" and it was encore time with a most-excellent "Marching to Mars," complete with a conga-line of the 50 fans on stage cruising around, and finishing with "Returning of the Wish." The party had come to a close. You didn't have to go home, but you couldn't stay there. Me, I went home.

The summer used to only have one party for me and that was when Jimmy Buffett came to town. This year (and hopefully for years to come) I get two. Sammy Hagar threw a party, and it was good. Two "Shots of Tequila" Thumbs Up!! Oh, hell, my vision is a little blurry from those shots. Bartender - give me another! THREE "SHOTS OF TEQUILA" THUMBS UP!!!

That's it for this one, I'm The Dude on the Right!! L8R!!