When it comes to modern music, America, without a doubt, has a lock on the Diva market. It's true... Think about it. We got the Pop Diva Whitney Houston, that cute little redhead from Oklahoma named Reba is the biggest thing in Country Music since the broken down pickup, and we have, who I proclaim the "queen of fucked up, tortured, and introverted genius souls" Tori Amos (I pretty sure she's American, from Baltimore I think, but I still think she's fucked up - not that that's bad, just what I think). Well let me give all you girls notice that there is a new heavy hitter in town and she's swinging a bat bigger than Frank Thomas's. I'm talking about the French-Canadian singing Diva, Celine Dion.

Promptly at 9pm Celine graced the stage dressed in a snappy white pants suit, and with a husky voice belted out the tune "I'm Your Lady." After few comments about her 1996 Olympics experience she let loose with "Seduces Me." It was at this point I knew something was different about her show. Everyone was still sitting. It wasn't because the people weren't enjoying the show, their applauds sent quite the opposite message. The crowd just didn't feel like standing. I don't think I've ever been to a concert where I hadn't stood from the start to the finish. I've often wondered why most venues bother to provide seats because people always stand. I'm not complaining mind you,

I always thought it was stupid to stand for an entire show. Maybe I'm just getting old, but I feel it doesn't have to be loud or you don't have to be standing to enjoy a concert. Sure if the artist is singing a rockn' song I may feel the need to dance, but for the most part I like to kick back and let my ears enjoy. I think the people there that night to see Celine were on the same wave length as me. Hmm... I just know Trash or the Editor will have a snappy comment about my commentary. (Dude on the Right here: Here's my snappy comment: Stu, quit babbling and tell everyone about the show!)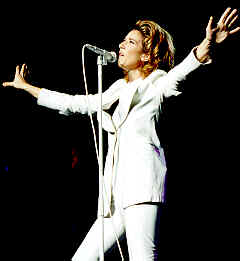 Anyway... In case you didn't know, Celine is no rookie just having a good year. Actually, Celine has been singing and recording since she was a teenager. Think of her as the "Tiffany" of Canada. After eleven records recorded in French she was finally convinced to record one in English. This took a lot of convincing because she had such a huge French following and she didn't want to betray her fans, plus the fact she didn't really learn how to speak English until after 1986. It's true! Granted she did sing the theme from Flash Dance in English way back when, but by her own admission she didn't understand a word. Well, all you fanatical French-Kanukelheads need not worry because Celine has not forgotten her roots. In fact she treated the audience to no less than four songs entirely in French (without subtitles).
Celine sang for a little over an hour and a half hitting many of her hits from "Falling Into You," her latest CD. Then she disappeared for a short break. Returning for her first encore she was accompanied by a 30 member choir in fule.com/images/line.gif" width="82" height="1">