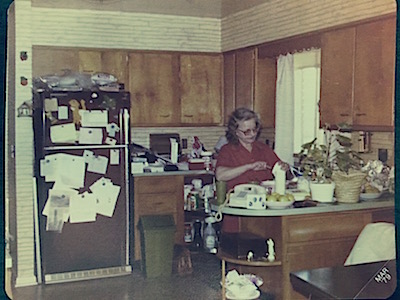 Growing up, well, I suppose not even growing up but just back at home at the old homestead, my mom had all kinds of crap stuck to the refrigerator. Schedules, appointments, maybe the occasional report card, hell, I don't really remember it all, I just remember there was a lot of stuff on there. It was her version of the pocket organizer, only it involved a lot of magnets and a lovely, brown, refrigerator. Refrigerators have come a long way since then, especially in color (good luck finding a brown refrigerator on the floor of your local appliance store), as well in features, but one thing that still seems to be sort of a status quo, at least for people I know is there is stuff stuck to them.
I know some of the new stainless refrigerators won't let magnets stick, but there are tons of ways to get around that with a variety of sticky solutions to the posting of your child's latest artwork. Our current refrigerator is also a kind of hodgepodge of stuff (and my wife might kill me for posting the picture), but it includes a little magnet of Chicago, some magnets of vegetables, a nice saying about God, and a giant calendar we received from our local church, complete with an advertisement for a funeral home to remind of our final destination that will come eventually. There are also these magnetic hooks that aren't really strong enough to hold much, yet there they are, but oddly none of the photos she had up at our old house made the move, or at least made it up on the refrigerator yet.
There are some people who prefer a clean slate if you will, no clutter, no magnets, no sticky-tack, and although not the daily organizer my mom had, it does make me happy that my wife likes stuff on the fridge. It also makes wonder: Do you have anything stuck to your refrigerator?
That's it for this one! L8R!!