Loading ...
It's been a long time since I've had a good fish fry. I've been trying to remember when it might have been, but I hate to think it was before my Mom died over five years ago and it would have been from Slovak Home back in Lorain, the staple of the Friday Fish Fry in my youth and in my older years whenever I would make it home to visit and Mom wanted fish fry. For years I would think about trying to find one near me in Illinois. Usually it came down to seeing a sign advertising a fish fry during the week, but then when Friday would come I would forget about it until after dinner saying "Oh yea. I wanted a fish fry."
Low and behold I found myself in the other land of the Friday Fish Fry, Wisconsin. A brief 4th of July weekend getaway and I'm at Lake Como, the other lake by Lake Geneva, staying at a little house right near the water. My wife, in charge of finding things to do and food to eat, during her first batch of searches, came up with going to Popeye's, a local touristy stop that had an all-you-can-eat Friday fish fry. It sounded like a plan, but luckily I needed a nap on Friday afternoon and she did a little more snooping around.
As Google-searching luck would have it she stumbled across an article of great fish frys and it pointed her to this place called Freddy's West End. Turns out the place was a few minute drive where we were staying, and even though it wasn't "all-you-can-eat" it sounded like a destination.
Kind of off of the beaten path unless you are familiar with the area around Lake Como, Freddy's is a local bar at its best with a pool table, some video gaming machines, hanging bags of chips and pretzels, and a neon sign on the wall that says "No bull shit." It just looks like an awesome, local place to grab a beer at the end of the day, and I'm told that during the week that's all it is. Forget the food – stop in for a beer. Switch to Friday, though, and it's time to move the pool table out of the way for Mary Lynn's Old Fashioned Fish Fry time with your choice of Walleye Pike, Lake Perch, Blue Gill for the fish side, and some other staples like shrimp or chicken tenders. Served with the proverbial slice of rye bread, a really good coleslaw, and a choice of homemade potato pancakes, french fries, or baby baked potatoes,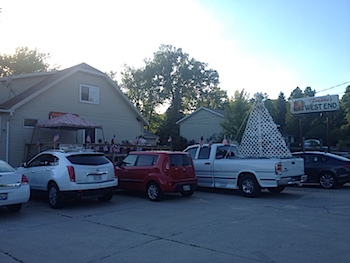 (I opted for the potato pancakes – they were a good choice), Freddy's had a fish fry that was fantastic and everything you want a fish fry to be. It wasn't all-you-can-eat, but for $11 they give you a giant portion of fish, fried to perfection with a batter that isn't overly greasy and just crunchy enough to remind me of home, and dare I say, this fish fry was even better than Slovak Home.
I suppose my quest for a good fish fry near my house still goes on, but if you want a really tasty fish fry I highly recommend pointing your GPS towards Freddy's West End by Lake Como in Wisconsin, and of course Slovak Home in Lorain, Ohio. Having lived around the Great Lakes all of my life the Friday Fish Fry has always been a staple, but it makes me wonder: Have you been to a Friday Fish Fry?
That's it for this one! L8R!!